West Virginia Governor Jim Justice: If Bond Passes, Highway Will Be Built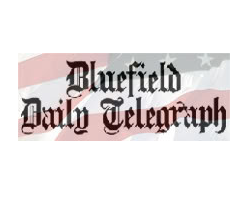 September 14, 2017 - King Coal Highway "absolutely" will be built if the upcoming $1.6 billion bond referendum passes, West Virginia Governor Jim Justice said Wednesday afternoon.
Justice stopped by the Bluefield Coal Show at the Brushfork Armory to speak and said in an interview afterwards the King Coal Highway is "protected" and will be completed if the bond passes.
The referendum will go before West Virginia voters on Oct. 7.
"They have been trying to build that road for 27 years," he said, adding that the Coalfield Expressway will also be completed if the referendum passes.
King Coal, part of the proposed I-73/74 corridor from Michigan to South Carolina, already has a section in Mercer County completed, the so-called "bridge to nowhere," which will eventually connect the highway with I-77 off U.S. 460 but currently runs into the side of a mountain.
The Coalfield Expressway also has sections completed and, when finished, will connect Interstates 77 and 64 with Interstate 81 in Virginia, running through coalfield counties in the process.
Not only will these highways be completed, $116 million would go into Mercer County roads alone, he added.
Justice said good roads are crucial for economic development and if the bond doesn't pass, it will be a step backwards for the state.
The total money available for roads will eventually be about $3.2 billion, he said, with other bonding authority money. Of that, $2.4 billion will be earmarked for new construction and $800 million for repairs of existing roads.
Projects now on the drawing board would be speeded up if the referendum passes.
More money could also come from federal resources, he added, because Pres. Donald Trump is pushing for an infrastructure bill,
"That infrastructure package could come in a year," he said.
During Justice's speech to coal show guests, he said coal is on the rebound and that it has to be sustained.
Part of his plan for sustainability is to work with the Trump Administration to establish a "homeland security incentive" to pay power plants to use Appalachian coal to "protect the eastern coalfields."
Justice said if a terrorist attack impacted natural gas lines and any shipments of coal from the West, it would create a "catastrophe beyond belief" for the East because no thermal coal would be readily available to fuel power plants.
"We cannot lose our eastern coalfields," he said.
Justice called Trump a personal friend he has known for years and he knows Trump wants to help coal miners.
"You have a friend in the White House," he said. "He is trying to help our miners. Absolutely, without a doubt."
But Justice spent most of the time talking about and promoting the bond referendum, emphasizing that if it passes there will be no new taxes.
"You have been told your taxes will go up (if it passes)," he said. "That is absolutely as bogus as bogus can be. You have already had a tax hike."
Justice was referring to the tax and fee increases passed as part of this year's budget.
Department of Motor Vehicle fees and the cost of gasoline all were raised, bringing in an extra $140 million a year, all earmarked for roads, including being used to pay off the bonds.
"Every single dollar (of that) has to go to roads," he said. "There is absolutely no more tax increases."
Money earmarked for the 10 counties in southern West Virginia should be enough go get people out to vote, vote for it and vote early, he said.
"God bless a milk cow," he said. "We can't possibly be dumb enough to walk away from that (work in those 10 counties) ... 153 projects, $545.2 million and 11,000 jobs."
Justice said if the referendum fails, "the monies you are paying for the gas tax will go into government and then it will be peed away. That's what happens. That's what government does."
Justice said he doesn't want to see the referendum pass by only a few votes.
"I would just as soon as lose as win by three votes," he said, adding that he wants it to pass with 90 percent of the vote and send a message to Washington. "I want him (Trump) to see that we are trying to help ourselves."
Justice ended with an upbeat note about the show and the coal industry.
"It's a happy day in West Virginia," he said. "The sun is shining … and coal is back."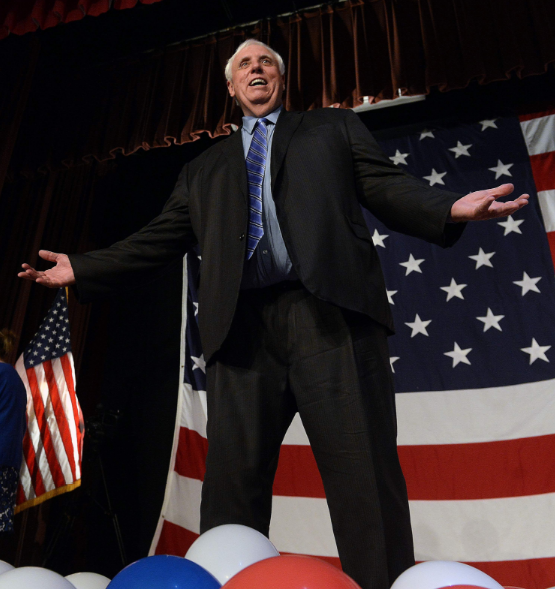 West Virginia Governor Jim Justice made a stop at the Bluefield Coal Show on Wednesday at the Brushfork Armory.
Photo by Jessica Nuzzo