Guardian Couplings Introduces New K45 Series Curved Jaw Flange Couplings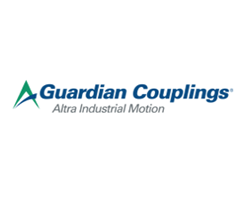 November 14, 2017 - Guardian Couplings, Michigan City, Indiana, has launched the new curved jaw flange (JF) K45 Series shaft-to-shaft coupling with a bolt-on disc for use with brake calipers. The new torsionally flexible coupling is designed for industrial applications including various types of cranes and hoists, winches, and mining conveyors, reclaimers and draglines.
Five models are available with bore sizes from 0.87 in. to 4.92 in. diameter and braking torque ratings from 8,310 in.lbs. to 63,720 in.lbs. The coupling's brake disc and flexible spider element can be easily replaced during assembly. The brake disc must be mounted to the shaft end with the largest mass moment of inertia.
For more information, visit guardiancouplings.com.