How to Make It in Coal Mining: Don't Count on Coal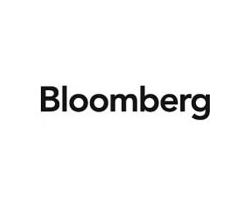 By Liam Denning
February 13, 2018 - If one wanted to own coal stocks, then Arch Coal Inc. is probably the right kind of coal stock to own. Why? Because it isn't terribly bullish about coal.
That's good because coal is in its twilight years. Beset by cheap natural gas, rapidly cheapening renewable energy and growing intolerance for its emissions (of which carbon is only one), coal's defenders have had to resort to cunning plans such as the Department of Energy's rejected Operation Squirrel (NB: I made that name up).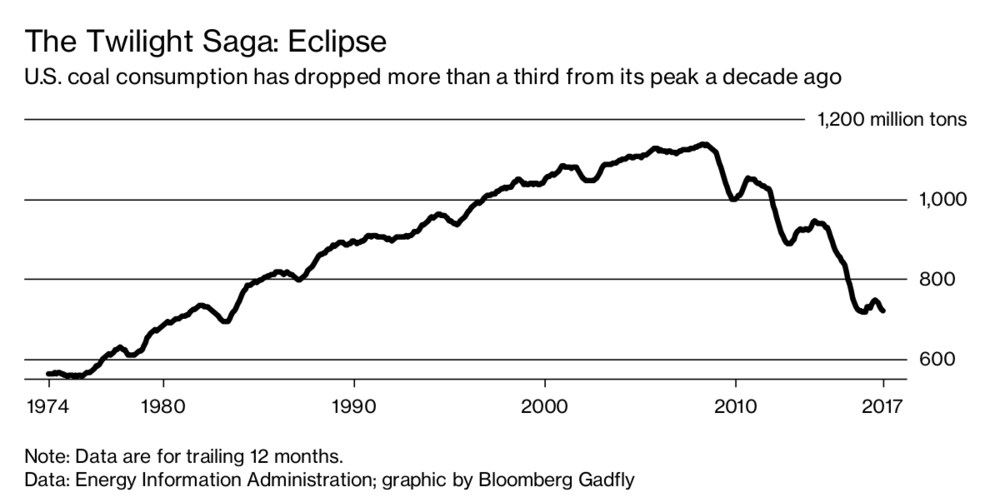 On Tuesday morning's earnings call, Arch's management was asked about Powder River Basin coal (which accounts for about 44 percent of their revenue). I mean, does this sound like an answer from a raging coal bull?
I think we could see rising prices in the PRB. But ... if we don't see the market improve we're not going to force volume into the market where we don't want it.
Thermal coal, like that from the Powder River Basin, is losing the battle for market share in U.S. electricity generation. Stocks of the stuff remain stubbornly piled up at power plants: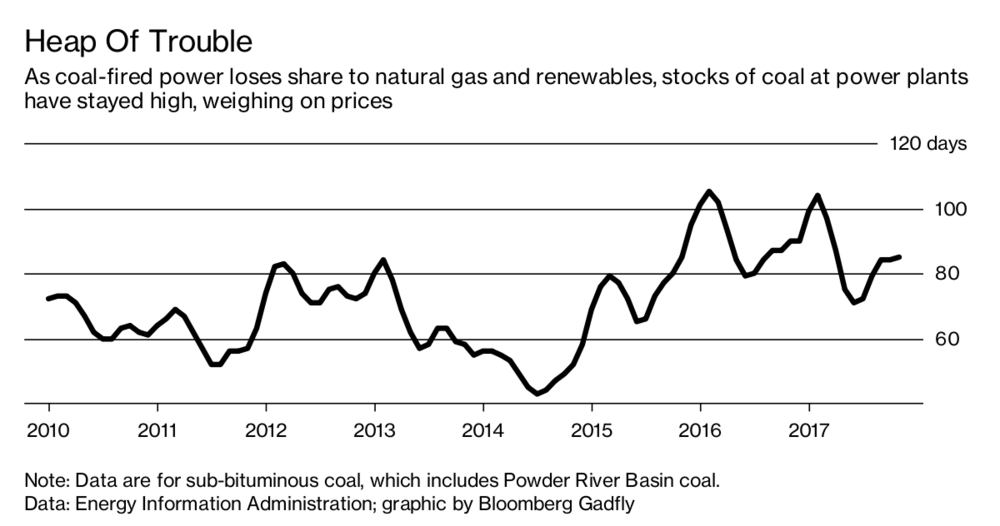 That said, thermal coal (that is, the stuff burned in power plants) from the Powder River Basin is about as competitive a lump as can be mined in the U.S., certainly vis-a-vis Appalachian coal.
Moreover, almost half of Arch's cash margin comes from coking coal, used in steel production and, therefore, less susceptible to the structural problems facing its thermal cousin. The biggest factor here is China, which produces half the world's steel. On that front, while severe weather dented Arch's production in the fourth quarter, a combination of Chinese restrictions on domestic mining and concerns about another cyclone-related disruption to Australian supply like last year led prices to spike again: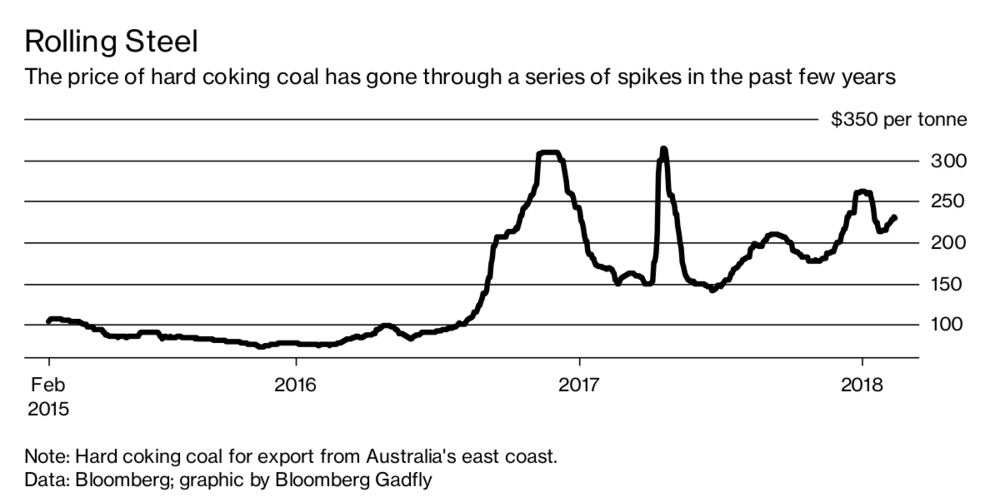 With that sort of volatility, though, it pays not to bank on coking-coal prices of $200-plus per tonne forever. After all, Arch's ill-timed $3.4 billion acquisition of International Coal Group Inc. in 2011 -- partly predicated on its coking-coal reserves -- helped tee up the company's eventual bankruptcy in early 2016 (a familiar tale across the sector). Hence, while Arch hopes to capitalize on any further strength in prices, CFO John Drexler said on Tuesday's call that Arch expects them to stabilize in a range of $130-$150 a tonne. Similar to the Powder River Basin's output, the emphasis is on keeping cash costs low in order to deal with the inevitable downturns while higher-cost rivals suffer.
The result is a company that appears to have learned from the earlier hubris that led to chapter 11 and isn't putting too much faith in the favor of the commodity gods.
It doesn't make for the most exciting equity story, granted, but it does make for a more dependable and realistic one in such a twilight industry, centered on distributing rather than reinvesting cash flow.
On this front, Arch has potential. It has net cash of about $100 million on its balance sheet. Having just raised its quarterly dividend to 40 cents a share, the stock yields 1.8 percent. That's OK, but underplays the potential for buybacks. Arch did $302 million of these last year -- for almost 16 percent of its shares outstanding -- and has almost another $200 million authorized. Yet it has the capacity to do a lot more.
The consensus Ebitda forecast for 2018 is $466 million ( a proxy for cash from operations). Take off $18 million for interest and $85 million for capital expenditure -- the midpoint of guidance -- and another $34 million for dividends. That leaves $329 million of free cash flow -- 66 percent higher than what's left in the current buyback program and enough, in theory, to repurchase another 18 percent of Arch's shares at the current price.
That's an extreme case, but it does illustrate the potential for price support this year. Above all, it is how a twilight business in commodities should be run.
Meanwhile, as the oil industry contemplates a future where it cannot necessarily count on never-ending demand growth and big price spikes, Arch offers a useful model. Indeed, some have already adopted a similar approach.
CoalZoom.com - Your Foremost Source for Coal News