Coal Country's Quietly Clawing its Way Out of the Doldrums. How Long Will It Last?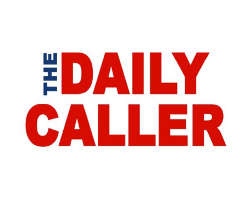 By Michael Bastach
November 4, 2018 - Amid the media hubbub of President Donald Trump's first year, the U.S. coal industry's economic prospects quietly improved, according to new data.
Led by a surge in exports, coal country has inched away from the lows of the latter years of the Obama administration — though many challenges remain.
All three major coal-producing regions saw production levels rise, with Appalachia alone seeing a roughly 10 percent increase in mine output from 2016, according to a U.S. Energy Information Administration (EIA) report released Friday.
"West Virginia's production increased 16.3% to 92.7 [million short tons]," EIA reported of the state, which is the center of a tough Senate election battle. West Virginia also added 1,661 jobs at coal mines in 2017, according to EIA.
West Virginia Attorney General Patrick Morrisey, a Republican, touted the rebounding economy during Trump's tenure while debating election opponent, Democratic Sen. Joe Manchin.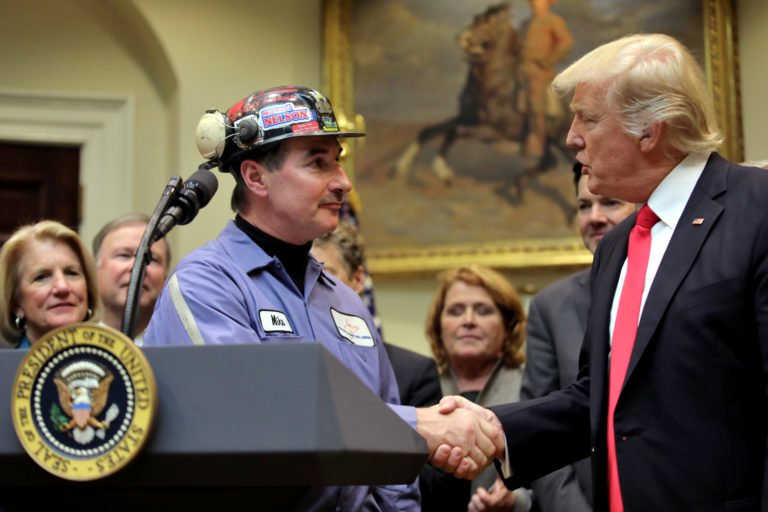 Michael Nelson, a coal miner worker shakes hands with U.S. President Donald Trump as he prepares to sign Resolution 38, which nullfies the "stream protection rule", at the White House in Washington, U.S., February 16, 2017.
Photo by Carlos, Reuters
Trump signed legislation and executive orders to eliminate Obama-era regulations seen as stifling the coal industry. The administration is in the midst of finalizing its replacement of the Clean Power Plan, which aimed to cut power plant greenhouse gas emissions.
Trump's replacement plan is expected to give coal plants some breathing room as they face increased economic competition from natural gas and renewables.
"We are back," Trump said at an August rally in West Virginia. "The coal industry is back."
To the north, Pennsylvania's production increased 6.8% to 47.2 [million short tons]," EIA reported, "and Eastern Kentucky's production increased 8.4% to 18.2 [million short tons]."
Pennsylvania also added 256 coal mine jobs, a nearly 5 percent increase, EIA noted. Coal mine employment nationwide rose 1,256 jobs from 2016, which had the lowest coal mine employment levels since EIA began collecting records in 1978.
What's interesting is that while domestic coal consumption dropped nearly 2 percent last year, the more than doubling of exports led to a small boom in production. EIA said coal exports hit 97 million short tons in 2017, "a level last reached in 2014."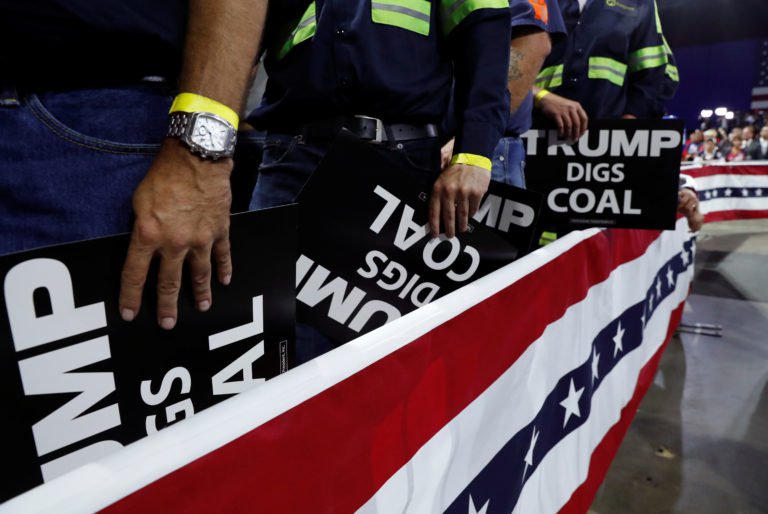 Coal miners wait for the Make America Great Again rally featuring U.S. President Donald Trump to begin at the Civic Center in Charleston, West Virginia, U.S., August 21, 2018. Picture taken August 21, 2018.
Photo by Leah Millis, Reuters
Americans are using less coal primarily because of shifts in electricity generation away from coal towards natural gas, wind and solar. However, global demand for coal is still strong.
Energy analysts expect coal exports to surge another 10 percent in 2018. Coal exports were up 32 percent in the first half of 2018 compared to the previous year, EIA reported.
However, the U.S. coal industry is also bracing for a record amount of coal-fired power capacity to retire by the end of the year.
"[A] total of 15.4 gigawatts (GW) of capacity to close in 2018 through the retirement of 44 units at 22 plants in more than a dozen states," the Institute for Energy Economics and Financial Analysis reported in October.