National Event Puts Miners to the Test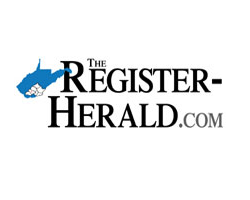 By Jordan Nelson
September 14, 2017 - Over 60 teams representing coal mines from all across the nation are participating in the 2017 National Mine Rescue, First Aid, Bench and Preshift Competition this week at the National Mine, Health and Safety Academy in Beaver.
The competition began Monday, and will end this evening.
Tim Watkins, MSHA's contest coordinator, said the 60-plus rescue teams come from 12 different states, and 14 are from West Virginia.
"Every single member competing is an actual coal miner," Watkins said. "But they are all on actual first responder rescue teams back home."
He said being a member of a mine safety rescue team is completely voluntary.
"So this helps them sharpen their skills, along with taking part in friendly competition."
The contest serves a purpose of helping prepare teams of specially trained first responders to operate effectively in a real mine emergency.
Individuals, along with their teams, test their knowledge throughout the competition in a series of simulated emergency scenarios such as mine fire, explosion or roof collapse.
Watkins said the contest gives first responders a real idea of what is going on underground.
"Although it is practice, and just a fun competition, it often seems real," he said.
"But nothing can compare to the real thing," Watkins said. "Nothing is like the real-life working conditions."
The competition is set up in four different categories, including a field competition, first aid, bench and preshift.
Watkins said in the field competition first responder teams must make their way through a stimulated mine emergency as judges rate them on how well the participants follow mine rescue procedures.
"Participants are to follow exact procedures as if it's a real life event," he said. "It's all about communication among team members."
In the first aid competitions, emergency medical technicians tackle real-life scenarios as if someone is actually injured.
Watkins said in the bench contest, individuals who maintain rescue equipment must inspect breathing devices thoroughly and correct all defects quickly.
And finally, in the in the preshift competition, a miner must accurately examine the mine layout area before the next work shift to identify and eliminate existing hazards.
Watkins said due to the decline of the coal industry, officials were worried they would not be able to put on a national competition this year.
"But West Virginia has a large number of mining rescue teams, and the facility was a great place to hold it, so I believe we have far exceeded expectations."
Watkins said the number of personnel members it takes to bring the contest to life is unbelievable.
"I really want to thank all the team members, judges, and other personnel who made the event possible," he said.
Over 130 personnel members were involved in the weeklong competition.
"When you go into an actual mine, you're going into a chaotic dangerous atmosphere, so training is key," Watkins said.
The National Mine Rescue Contest will come to an end Thursday evening after an awards banquet.
"Everyone loves good competition, but its about presenting your skills and showing what you know how to do."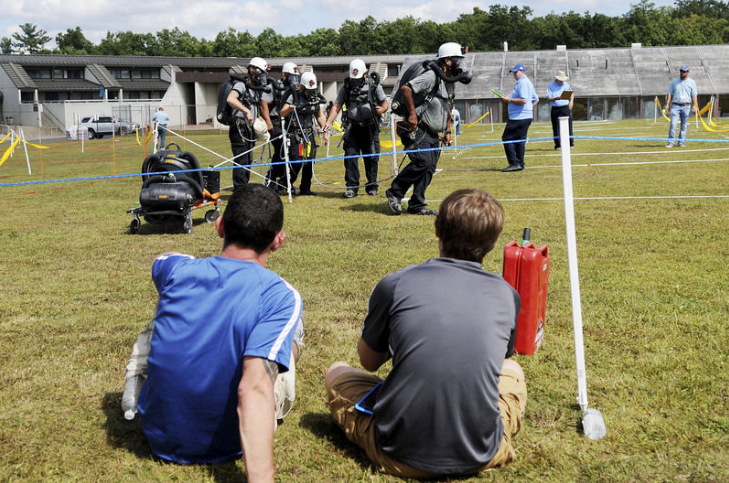 Tony Torboli, left, from Greensburg, PA, and Mike Corley, from Elkins, WV, watch as a mine rescue team with Prairie State Generating Company competes in a simulated mine rescue competition as judges look on the National Mine Health and Safety Academy on Airport Road in Beaver, WV on Wednesday.

Photo by Chris Jackson, Register-Herald