Canadian Coal Terminal Could Be Caught in Crossfire of Trump Trade War With Justin Trudeau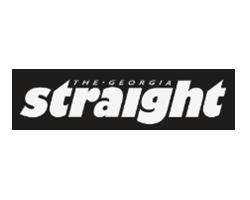 By Charlie Smith
July 2, 2018 - Once again, a Vancouver-based coal-shipping company has been recommended as a sacrificial pawn in a Canadian trade dispute with America.
In a commentary on the Centre for International Governance Innovation website, author and former CIBC World Markets chief economist Jeff Rubin has suggested that Ottawa should "consider imposing its carbon tax on the trainloads of U.S. thermal coal that are shipped out from Vancouver's Westshore Terminals".
"Given how critical the terminal is to US thermal coal exports, such a move would be a death knell to President Trump's off-stated promise of resuscitating a badly crippled coal industry and might be the motivation needed to reconsider the tariffs against Canada," Rubin wrote in a commentary that also appeared on the Vancouver Sun and many other Postmedia websites.
Rubin noted that former British Columbia premier Christy Clark previously threatened a 70 percent carbon tax on coal shipments passing through Westshore Terminals in response to U.S. duties on softwood lumber.
Westshore Terminals Limited Partnership has 300 employees, with many of them at its Delta coal port near the Tsawwassen ferry terminal.
The company says on its website that each coal train "represents more than 14 jobs and $3.1-million in economic activity". It states that this is enough to pay for 33 hip surgeries or eight school teachers or 24-hour doctor's care for 50 days.
Westshore Terminals receives coal from Canadian deposits in British Columbia and Alberta, as well as from the Powder River basin in Montana and Wyoming.
Last year, then premier Christy Clark said in a public letter that 6.2 million tonnes of U.S. coal are shipped through British Columbia.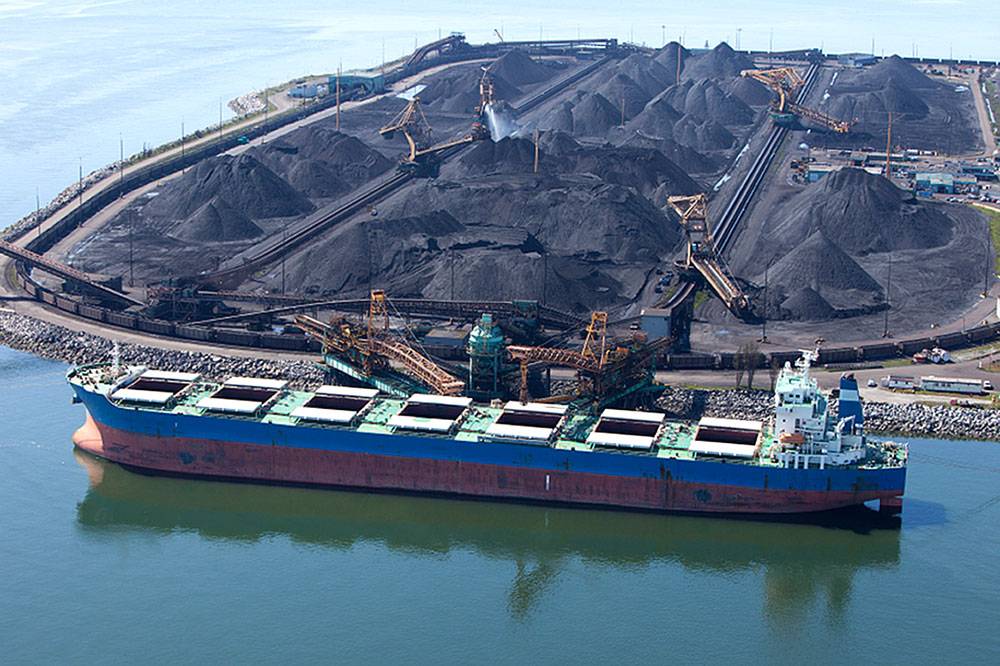 Last year, then premier Christy Clark said that 6.2 million tonnes of U.S. thermal coal passed through Vancouver ports in 2016.
Photo by Dan Prat
America is the world's second-largest producer of coal behind China.
The US coal bound for the Delta port is carried by Burlington Northern Santa Fe trains. The railway is owned by U.S. billionaire Warren Buffett, who was a vocal Hillary Clinton supporter in the last presidential election.
"The vast majority of US coal exported through British Columbia goes to South Korea, Japan and Chile," Westshore Terminals says on its website. "All three nations have taken steps to apply carbon pricing when the coal is used. South Korea has an emissions trading program. Japan has a carbon tax, and Chile will also have a carbon tax in place commencing in 2018."
Westshore's parent company is Westshore Terminals Investment Corporation, which is 32.31 percent owned by Vancouver businessman Jimmy Pattison.
The next largest shareholder is Burgundy Asset Management with 13.46 percent, according to Westshore's May 10 management information circular and proxy statement.
The company's directors include Jim Pattison Group president Glen Clark and the Jim Pattison Group's managing director of legal services, Nick Desmarais.
A new director on the board is former Surrey mayor and former Conservative MP Dianne Watts, who was elected at the June 19 annual general meeting. Watts came second in the BC Liberal leadership race earlier this year.
To date, most of the Canadian government's recently announced duties on US imports have been on products from swing states in the US presidential race. These include Florida, Pennsylvania, and Ohio.
Montana and Wyoming, which is home to the Powder River basin, have long been considered safe Republican hamlets in presidential elections.
Montana has only gone Democrat once in the last 13 presidential elections. And that was only because an independent, Ross Perot, siphoned off enough Republican votes to give Bill Clinton a narrow win in 1992.
The last time the Democrats won Wyoming in a presidential election was in the Lyndon B. Johnson landslide of 1964.
Rubin's commentary appeared shortly after he wrote a longer paper exposing that the United States is closer to meeting its emissions targets under Donald Trump than Canada is under Justin Trudeau.
This has occurred despite Trump pulling out of the 2015 Paris Agreement, which aims to limit the average global temperature increase to two degrees Celsius above where it was at the start of the Industrial Revolution.
"The significant difference in emission performance is the result of the very different trajectories of energy-related emissions in the two countries," Rubin revealed. "In the United States, such emissions have fallen steadily over the last decade as natural gas has usurped coal's once dominant role in the US power sector.
"North of the border, oil sands emissions continue to be the fastest-growing source of emissions in Canada as emission-intensive in situ oil sands production continues to increase despite unfavourable economics."
Today, new 10 percent Canadian duties take effect on a long list of American imports, including aluminum products, orange juice, mayonnaise, salad dressing, inflatable and motorized boats without outboard motors, sailboats, refrigerator-freezers, licorice candy, toffee, and roasted coffee.
A larger 25 percent duty has been imposed on imports of US steel products.
This comes in response to Trump's May 31 decision to hit Canadian, Mexican, and European Union steel imports with 25 percent duties, while also imposing 10 percent duties on aluminum imports.
CoalZoom.com - Your Foremost Source for Coal News