Past Chairs Honored at Careers in Coal 55th Fall Meeting
September 25, 2018 - Reggie Farlaino, Western Region Sales Manager, Strata Products Worldwide, LLC.; and Kevin Whipkey, Eastern Operations - General Manager, Norwest Corporation - Stantec, were honored during the Grand Banquet of the CI-Coal 55th Fall Meeting in Greensboro, NC on Saturday night. The Careers in Coal Chairman's Award, to honor outstanding service was presented to each of them.
"Chairmen have received little recognition throughout our history and we are going to correct this by establishing the Careers in Coal Chairman's Award," said Bill Reid, the current Chairman, in presenting the award. "Reggie, assisted by his delightful wife Renae, was Chairman of CI-Coal 2017-2018 and deserves recognition for his excellent service to the organization and arranging our great Fall Meeting in Nashville, TN and recent Spring Meeting in Moab, UT."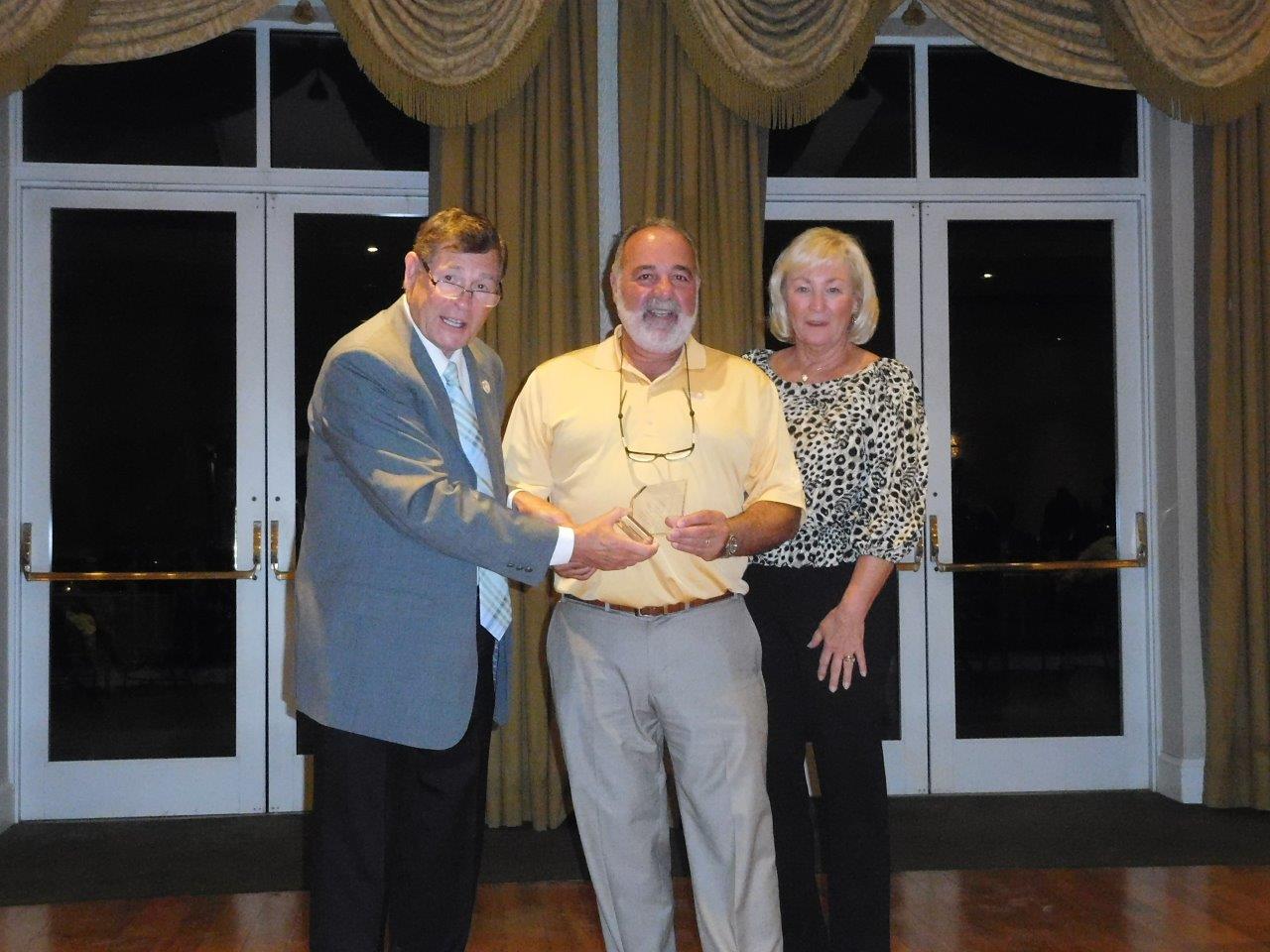 Bill Reid Presents Careers in Coal Chairman's Award to Reggie Farlaino as Renae Looks On
"Kevin, supported by his charming wife, Judy, served as Chairman 2016-17. It is noteworthy that Kevin has not only served as Secretary since 2012 but he has now accepted the role of Chair of the important Membership Committee and it is very fitting that we should also honor him tonight for his continued loyal and very important service over many years," said Reid.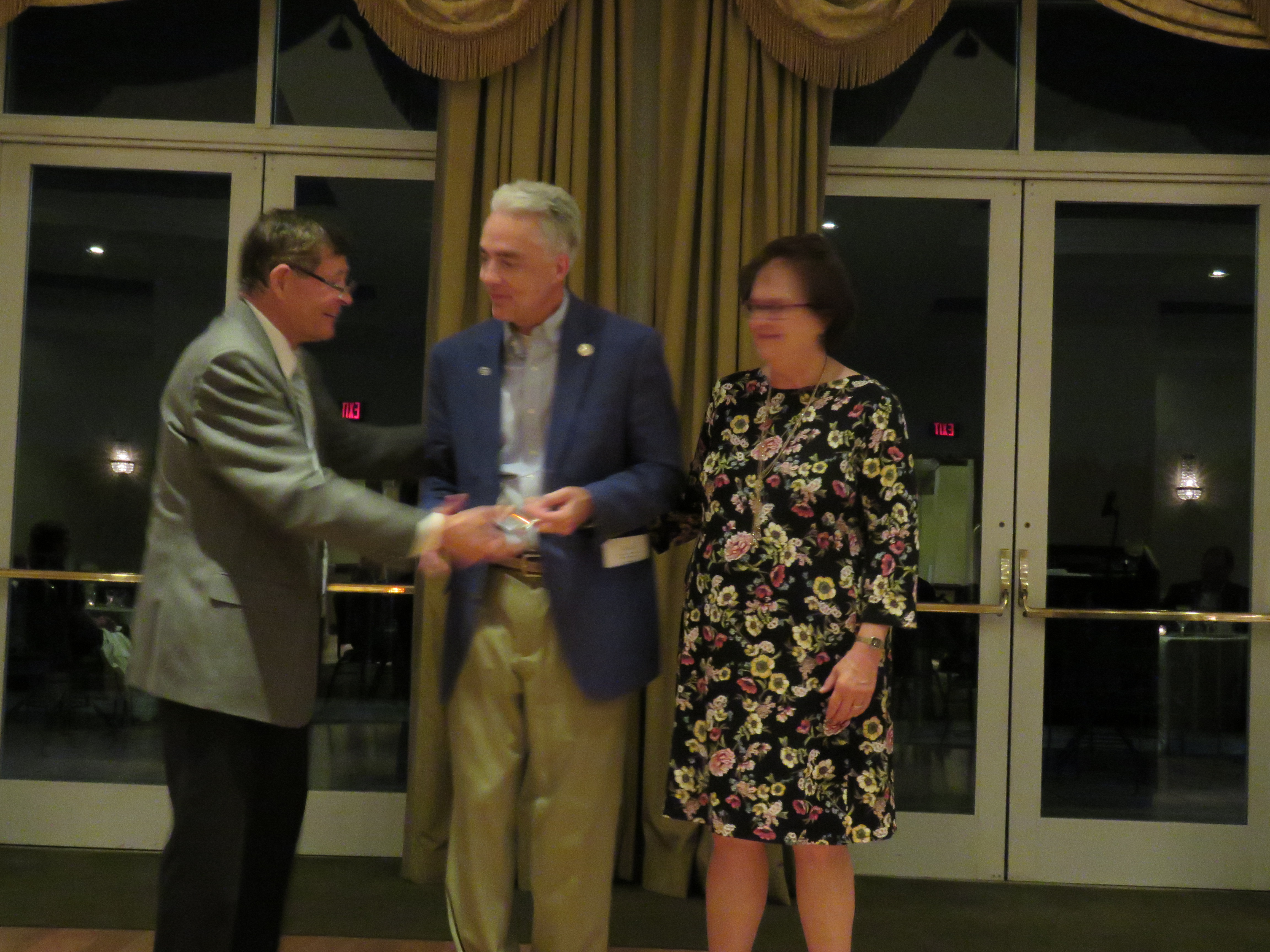 Kevin Whipkey with Judy is Presented with Careers in Coal Chairman's Award by Bill Reid
Nine other past Chairmen were present at the dinner including: John Combs (2015-16), CK Lane (2014-15), Don Arrowsmith (2011-12), Greg Patterson (2007-08), Jim Corsaro (2006-07), Dick Bolen (2005-06), Steve Capelli (2004-05), Phil Longenecker (1991-92), and "Judge" McWhorter (1985-86). Reid thanked them for their service, regretting it was not possible to give each one of them an award, and asked them all to stand to receive a hearty round of applause from all present.
CI-Coal is an organization dedicated to the best interests of the great American coal industry. Today, coal is mined with modern high-technological equipment with the prime considerations being the safety of all coal miners and mining in an environmentally responsible way. Coal accounts for the generation of 30% of the nation's electricity and contributes $70 billion to the country's economy every year.
With regard to wind and solar power, when the wind doesn't blow and the sun doesn't shine there is no power generated. Coal is therefore needed as a base load fuel and, particularly when the national electricity grid is under strain in times of extreme heat or cold, coal can be relied upon to supply reliable electricity. Coal is safe, secure and sensible and will remain so for many years.
The Grand Banquet concluded the CI-Coal Fall Meeting, which was held over two days. Careers in Coal, or CI-Coal for short, was founded in 1963 by mining engineers, Fred Toothman, a railroad executive with the C & O Railway Company, Dave Zegeer, who is credited with the mining of 80 million tons of coal at Beth-Elkhorn in KY and who later became head of MSHA, and John Schroder of US Steel fame. All phases of the coal industry management are represented by CI-Coal's members with membership by invitation only.