Caterpillar Tells Miners How Cat Large Trucks Can Boost Their Bottom Line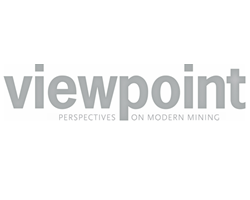 December 3, 2018 - Caterpillar recently hosted about 100 targeted customers and Cat® dealers to a two-day program focused solely on large mining trucks — introducing two new models, providing an update on all Cat ultra-class models, and launching a new message around the entire Cat truck lineup.
The event included the official launch of two new electric–drive trucks — the 326-tonne (360-ton) 796 AC and 372-tonne (410-ton) 798 AC — which fill gaps in terms of payload and give Caterpillar the most comprehensive lineup in the mining industry.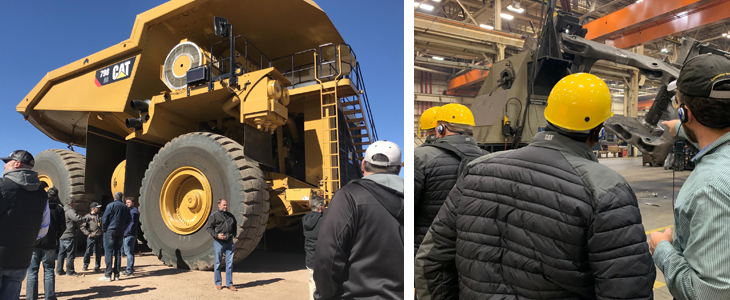 "We now have a truck for every site or application with a complete lineup of perfectly matched loading tools," says Global Product Manager Sudhanshu Singh. "That allows us to deliver a loading and hauling solution that is the ideal fit for every operation."
The large mining truck program, held at the company's Tinaja Hills Demonstration & Learning Center near Tucson, Arizona, USA, included presentations from subject matter experts, equipment demonstrations, in-the-iron time, question-and-answer sessions, and a special choreographed night demonstration that ended with a dramatic first look at the new 798 truck.
The main focus of the event was Cat ultra-class trucks: the mechanical-drive Cat 793 and 797 and the company's three newest electric-drive trucks, the 794, 796 and 798. Additional topics included an overview of the Caterpillar solution to meet U.S. EPA Tier 4 regulations; a session on Cat MineStar™ technology offerings for trucks, including full autonomy; and an overview of cost-per-ton modeling.
The topic of cost-per-ton was woven throughout the program, as Caterpillar introduced its new message for trucks: Delivering a better bottom line. While providing overviews of each truck model, presenters tied the benefits to the impact they have on the bottom line.
"Cat mining trucks are designed to provide the lowest possible cost-per-ton over their lifecycle," says Singh. "There are a lot of contributors to that." Presenters offered dozens of examples across the truck lineup, including:
A large empty weight advantage that ensures maximum payload
Higher retarding and better braking for safer, more confident operators
Long first life and the opportunity to rebuild for additional lives
Total Cat integration, which results in highly efficient systems and performance
The program also included time with Caterpillar leaders, including Singh; Jean Savage, Vice President of Surface Mining & Technology; and Denise Johnson, Group President of Resource Industries.
Following the program, a number of participants traveled to Decatur, Illinois, where they toured the facility where Caterpillar makes its large mining trucks. They also got a look at the new 24 motor grader and large wheel loaders, which are also manufactured in Decatur.