Publisher of 'The Mining Journal' to Retire at the End of the Week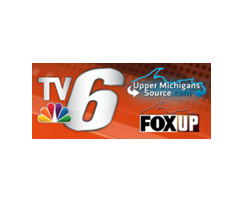 By Cali Dankovich
July 9, 2019 - After 42 years of being in the newspaper business, Publisher and General Manager of "The Mining Journal," Jim Reevs, is retiring at the end of this week.

Out of Reevs' 42-year career, 27 years have been spent at "The Mining Journal" in Marquette.
"When this opportunity came up, it was a larger paper than the papers I was with in Wisconsin, so that gave me the opportunity to come here and I thought I was going to the top of the world, but it turned out to be a very good place, obviously, to be able to stay here for 27 years," Reevs said.

Over the last 42 years, Reevs has seen significant changes within the newspaper industry. At times, he said, those changes were challenging.

"42 years and I have to say, the last three years in comparison to that and it's primarily social media and the change that social media has dictated to the newspaper industry," he said.

However, Reevs said that the good times with the newspaper outweigh the challenges he has faced.

Out of everything, he said that he will miss being out in the community the most.

"The newspaper business is, like I said, you're kind of the heart of the community and that, so you get very involved in just about everything in the community so that part of it was great. You can have an impact on the community you live in. That part of it was great and I loved being able to help people, I loved being able to help businesses grow," Reevs said, reflecting on his career in Marquette.

He said looks forward to staying involved with volunteering during his retirement, especially with the Salvation Army and United Way.

Joe Drozd, who has been working at "The Mining Journal" for nearly 43 years, said Reevs has been a pleasure to work with for the past 27 years.

"He's got tenacity and he believes in his product, and now, he can retire from his product," Drozd said.

The public is invited to attend a retirement celebration for Reevs at The Holiday Inn in Marquette, Michigan on Friday, July 12, from 4-6 p.m. Light hors d'oeuvres and a cash bar will be available.