Months of Upheaval Has Left Analysts Asking,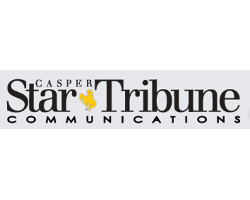 August 25, 2019 - Highway 59 slices through the rolling prairie of northern Wyoming, a thin line of gray amid a sea of golden grasses and brown scrub.

On a day in early May, a driver heading north on the two-lane road would first pass through Wright, an 1,800-person coal town that dissolves into the surrounding hills. Just beyond the city limits sit the nation's two largest coal mines: Black Thunder and North Antelope Rochelle. Together, they produce more coal than the combined output of the county's next 13 largest mines.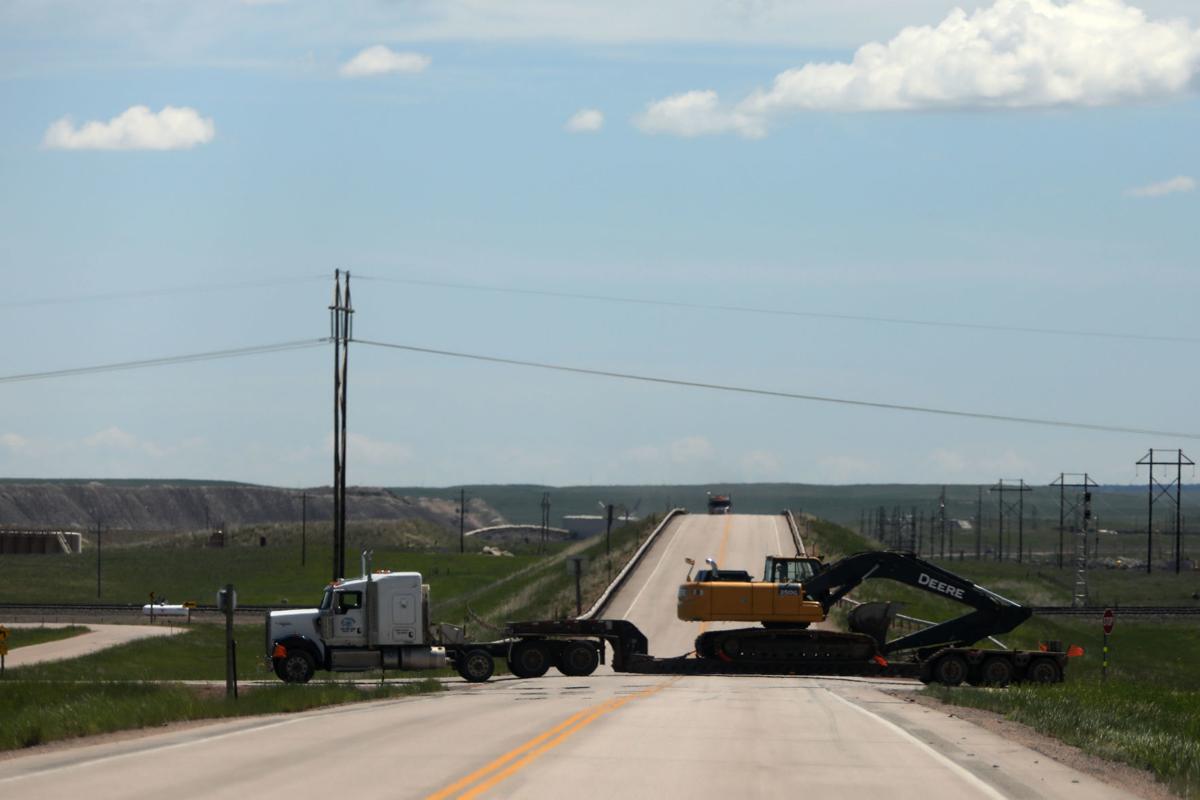 A semi truck moves heavy machinery across the highway June 19 at Arch Coal's Black Thunder coal mine near Wright.
Photo by Cayla Nimmo, Star Tribune

Twenty miles to the north, the driver would pass the turnoff for Cordero Rojo, the fifth-largest coal mine in the U.S. Wyoming-based Cloud Peak Energy, the mine's owner, would still be solvent, having avoided the wave of bankruptcies that had crashed down upon many of its competitors.

Next would come Belle Ayr, the nation's sixth-largest coal mine, owned by a relative newcomer to Wyoming, Blackjewel. Beyond that, the driver would see more mines dotting the area, splotches of gray and black peeking out beyond the scrub.

After several more miles, the city of Gillette would emerge from the barren landscape. Dubbed the Energy Capitol of the Nation, the city of 30,000 is a major hub for the fossil fuels that drive Wyoming's economy: coal, oil and natural gas. The good economic times of earlier this decade treated Gillette well: The city is home to a well-maintained college, recreation center and events complex.

Just beyond the northern edge of Gillette, Eagle Butte would finally appear, another massive mine that pumped out 17 million tons of coal in 2017. Its closeness to Gillette is an illustration of the symbiotic relationship between the city and the industries that power its — and much of Wyoming's — economy.

Take the same drive today, and the landscape of the Powder River Basin would look the same. But under the surface, everything has changed.

The basin's Black Thunder and North Antelope Rochelle mines are now planning to operate as one, after their owners announced an unprecedented agreement in June.

Cloud Peak, once considered a beacon of stability, will soon exit the basin after filing for bankruptcy nearly four months ago. The company is selling off its Cordero Rojo and Antelope mines to an out-of-state company.

Blackjewel's two mines are now shut down, leaving the roads on the outskirts of Gillette eerily quiet. The company filed for bankruptcy, closed its mines and sent 600 employees home indefinitely on July 1. It's unclear when the mines will reopen.

The seismic upheaval begs the question: What does all of this change mean for the nation's top coal-producing region? Even analysts aren't certain.

"The events of the last three months have been kind of extraordinary," University of Wyoming economist Rob Godby said. "Is this a new normal? I really hope not. ... But there will probably be major adjustments — whether it's a new mine closure, a downsizing or a significant layoff."

Heartbeat of the State

For half a century, the Powder River Basin — a 20,000-square mile region in northeast Wyoming — served as the Equality State's premiere economic engine. The basin pumped out 324 million tons of coal last year, roughly equivalent to the total weight of all humans worldwide. Lucrative severance taxes reaped from coal have filled Wyoming's coffers to the tune of billions of dollars — funding everything from schools to roads.

For years, the basin's bounty of colossal coal deposits reigned king, becoming one of the hottest commodities on the energy market. In contrast to the state's more volatile oil and gas sector, demand for coal stayed fairly constant.

Somewhat ironically, considering the industry's current situation, the environmental movement helped give birth to the modern Powder River Basin.

The mineral industry emerged in the Powder River Basin in the late 1970s after changes were made in coal leasing. But it wasn't until two decades later that coal mining in the basin really took off.

In the 1990s, utility companies flocked to the region's clean, cheap coal to satisfy new federal emission standards, like amendments to the Clean Air Act. Demand for PRB coal surged, striping customers away from the Appalachian region. Mining coal in PRB also required 13 times less labor compared to the country's eastern coal mines out east.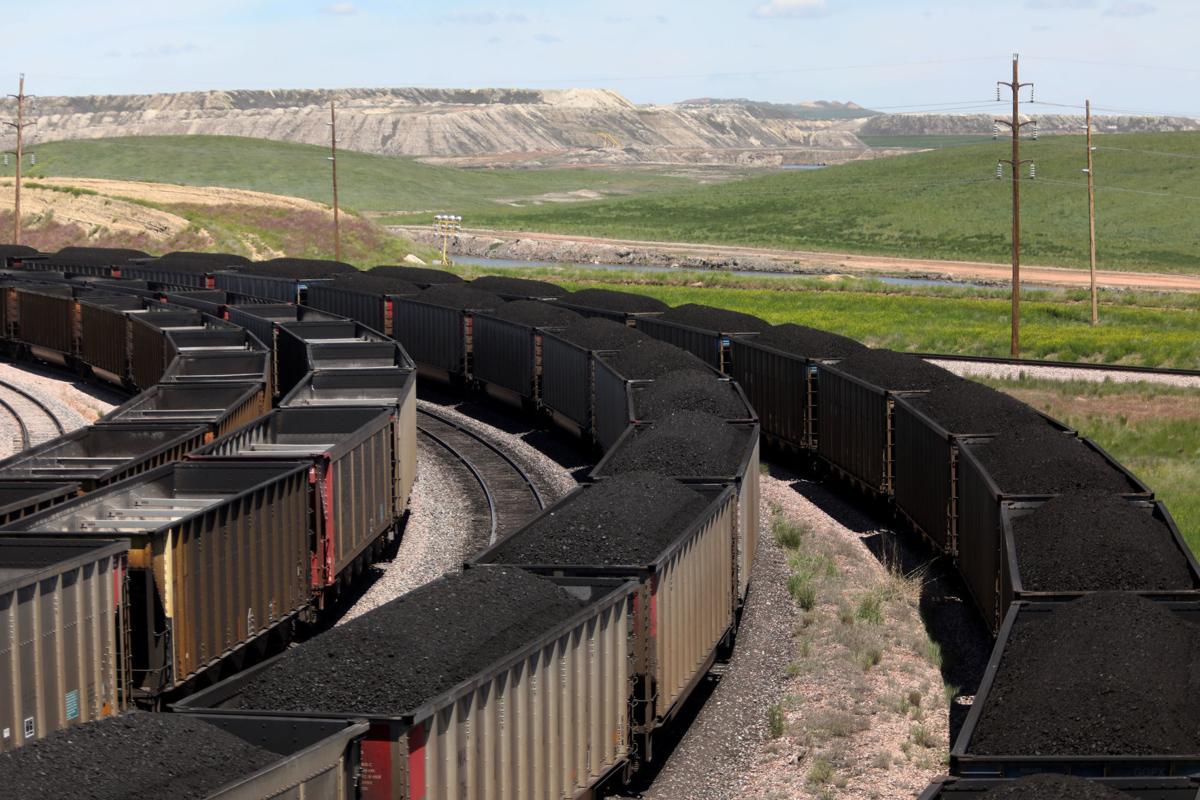 Rail cars loaded with coal sit on the tracks earlier this summer at the Black Thunder coal mine near Wright, Wyoming.

Photo by Cayla Nimmo, Star-Tribune

But demand for coal nationwide began to drop precipitously around 2011, triggered by the closure of coal-fired power plants, static electricity demand and rise of natural gas and renewables. Within five years, national coal production fell by nearly a third and companies started filing for bankruptcy.

Since then, the coal industry has struggled to fully recover, and the events of the past three months may foreshadow more of what's to come for the basin.

The summer's volatility could be sign of a new chapter in the basin's coal trajectory, according to interviews with several analysts. Lawmakers have long promulgated Wyoming's status as the energy mecca of the nation. But static demand for electricity, the takeover of dirt-cheap natural gas and the move toward renewables may usher in a new era in the Powder River Basin, or PRB.

But all is not lost.

"Absent some huge change, there is going to be a coal industry in the PRB for some years to come," Godby said. "What we need to do is make sure it's as healthy as possible to minimize disruption during any transitions."

Who's to Blame?

At the turn of the century, technological advances in horizontal drilling and hydraulic fracking took center stage, allowing developers in the PRB, and beyond, to pump out oil and gas for dirt cheap. This shift, among others in the energy landscape, catalyzed a domino effect of closures among coal-fired power plants.

"At the end of the day, it's a very simple explanation," said Joshua Macey, a professor at Cornell Law School specializing in energy law. "Gas got really cheap."

Last year, natural gas-fired power plants eclipsed coal-fired plants in power generation. And in April, for the first time in history, renewables supplied more electricity to Americans than coal.

As the natural gas boom revved up, renewables became cheaper, and storage capacity expanded. But PRB coal companies dug in, largely eschewing suggestions from economists to substantially curb overall output, or risk overproduction and threadbare prices.

Nonetheless, PRB coal output has been slipping. Coal production in the region has fallen to levels last seen during the 1970s. A decade ago, PRB produced nearly 500 million tons of coal. Last year, production fell to about 60 percent of that.

"The very same plants that made the choice to switch over to low-sulfur coal are the same plants that are facing headwinds — in this case natural gas and renewables now," said John Larsen, director of Rhodium Group, a research firm specializing in the energy economy. "There is blow back all the way to Wyoming. There is just less demand for PRB coal."

Meanwhile, electricity consumption dwindled nationwide in the aftermath of the financial crisis in 2008. Since then, electricity demand has largely plateaued, contrary to predictions by several energy experts.

"When electricity demand is not continuing to grow, and there is more natural gas and renewables coming on board, there's just less market share space for anything else like coal," Larsen explained.

The consequences of shrinking demand for thermal coal from power plants has been catastrophic for the basin. Only 132 power plants buy coal mined in the PRB, according to a 2018 report by the Institute for Energy Economic and Financial Analysis, an organization advocating for a transition to renewables. About a decade ago, some 200 coal plants conducted business with PRB mines.

"What happens is, companies have to fight harder and harder for a shrinking pie, and that is a pretty hard place to survive in," said Godby, the economist.

In the past four years, six companies with a foot in the basin's coal market have filed for bankruptcy. Companies shed workers, with employment falling from more than 7,000 in 2011 to roughly 5,700 last year.

Over the last decade, more than 540 coal-fired power units have been given a retirement date, according to the Energy Information Administration, a federal energy data center. Fewer coal-fired power plants means fewer customers for coal mines.

President Donald Trump promised to save the coal industry by rolling back environmental regulations. Despite these overtures on the campaign trail, coal-fired power's decline has continued unabated since he came to office.

Last year, companies retired 13 gigawatts of coal-fired capacity throughout the country. That's nearly double the amount retired the year before that and "the second highest annual number ever," according to Larsen. Fourteen gigawatts of coal-fired capacity were retired in 2015.

"It's hard to point the finger at environmental regulations when you have an administration who is solely focused on rolling back regulations, but you're still seeing double-digit retirement," Larsen said.

Prior to this summer, the basin had appeared to stabilize from the lows of the last energy bust, which began in 2015. Then in May, a new period of volatility began.

An Unprecedented Summer

Even amidst the downturn, the Powder River Basin mines continued to produce vast amounts of coal. Although some companies filed for bankruptcy to reorganize their debt, the mines stayed open. Lawmakers amended state and local budget projections and revived nascent talks on economic diversification.

But this summer changed everything.

On June 19, an announcement came from the basin's top players. Peabody Energy and Arch Coal announced a plan to join operations, bringing the nation's two biggest mines — North Antelope Rochelle and Black Thunder — under one roof. The joint venture would allow the company to control production, curb competition and cut costs, according to several analysts.

The joint venture sent chills through the basin's smaller companies. But locals responded with optimism and several public officials lauded the agreement as positive for the basin.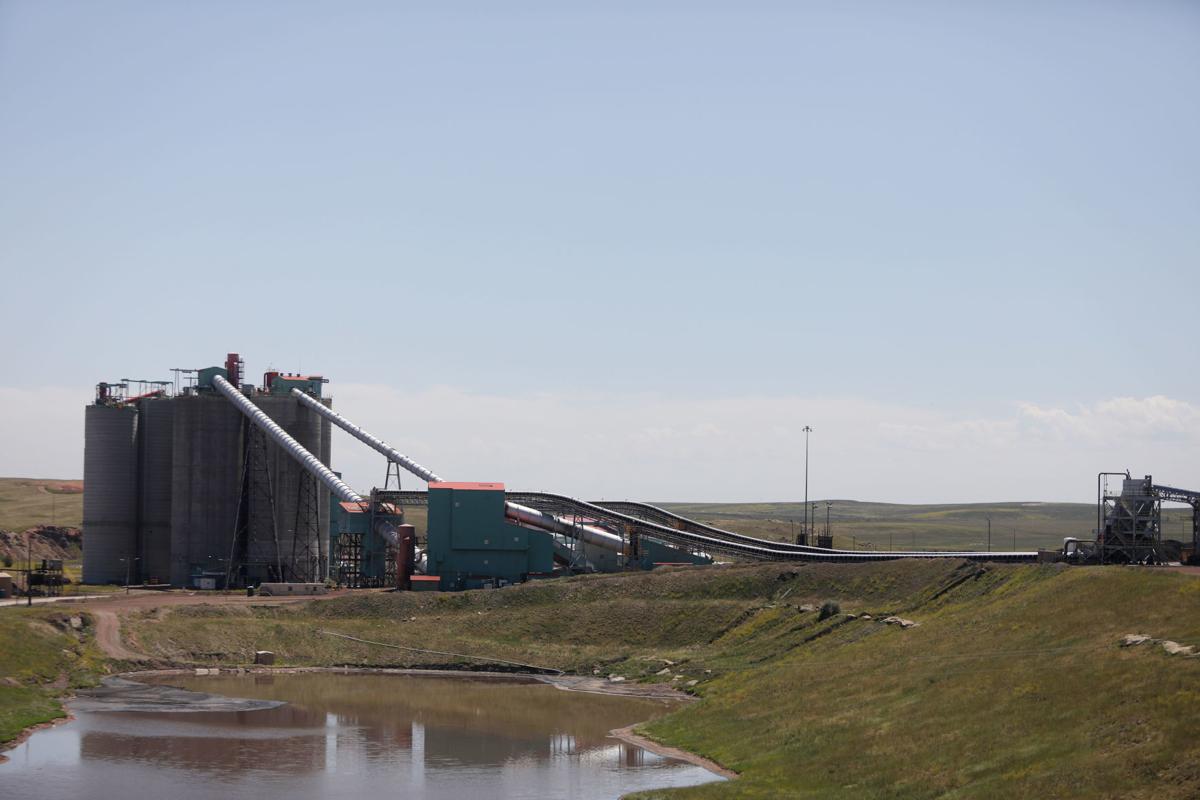 Belle Ayr Mine is pictured Thursday south of Gillette, Wyoming.

Photo by Cayla Nimmo, Star-Tribune

Less than two weeks after the Peabody and Arch shakeup, coal operator Blackjewel filed for bankruptcy and shut down its mines. About 600 workers left the mines uncertain of what to do next. Without any workers, the fourth- and sixth-largest producing coal mines in the country, which pumped out more than 34 million tons of coal in 2018, came to a screeching halt.

Weeks of tumultuous bankruptcy court proceedings followed, as lawyers for the insolvent company rushed to secure necessary bridge funding to resurrect the mines back to operation. When that failed, Blackjewel pivoted to sell its mines on auction, bringing the mines' former owner, Contura Energy, back into the fray.

In the meantime, anxiety ballooned among out-of-work miners. Local governments — owed millions of dollars in taxes by the bankrupt company — tightened their belts.

A bankruptcy judge approved the sale of Blackjewel's Wyoming mines to their former owner Contura Energy last month. But the deal has yet to close due to objections from the federal government over unpaid royalties and leasing terms.

In the latest bankruptcy news to hit the basin, bankrupt coal operator Cloud Peak, which owns neighboring coal mines Antelope and Cordero Rojo, received court approval to sell its mines to Navajo Transitional Energy Company on Monday. Cloud Peak, the company ranked as the third-highest producing coal company in the country, filed for bankruptcy in May.

"For a company that was the third-largest coal company a few months ago. To get $15.7 million for its mines was pretty shocking," Macey said. "We're not thinking of Cloud Peak as the behemoth company it was a year ago."

To Macey, selling the mines for such a small amount of cash suggests there is not much hope for coal mines' futures.

"Both the Cloud Peak sale and the Blackjewel sale, I think what's apparent is that it is very hard to convince investors that there will be enough demand for PRB coal to profitably support five large coal companies," Macey noted.

On a local level, several of the bankrupt coal companies have left counties and small towns high and dry. Campbell County depends on ad valorem taxes from coal companies. But more often than not, reorganization during bankruptcy coincides with an erasure of a company's debt. That means creditors, like the county, do not see the taxes they are owed.

For instance, in 2015, Alpha Natural Resources filed for Chapter 11 bankruptcy and left Campbell County hanging with approximately $16 million in unpaid taxes. Though the bankruptcy cases involving Blackjewel and Cloud Peak remain ongoing, both companies still owe Campbell County millions of dollars in taxes.

After what happened this summer, public officials in the basin's coal towns are playing it safe. According to the Institute for Energy Economics and Financial Analysis, one out of every 10 households in the Powder River Basin depend on employment from the coal industry.

"I am just taking the conservative approach where I keep the town going, and the council agrees," said Mayor Ralph Kingan of Wright. "We'll just be super conservative, and still do our road plan and try to keep everything looking good."

Just up the road in Gillette, Mayor Louise Carter-King of Gillette said her team is running "leaner and meaner." The city increased its reserve fund to 150 days in case of an emergency, too.

We've been working with the county and the state to diversify the economy," Carter-King said. "When I say that, I don't mean we're going to bring in Microsoft or something like that. We have a valuable resource in coal and other resources in uranium, oil and gas and we need to figure out different ways to use these valuable commodities to not only benefit us, but benefit the nation."

Carter-King remained optimistic about the road ahead for Gillette and its neighbors.

"We're still mining coal, and we still have many employees making good wages, but we are looking to the future as well," she said.

What's Next?

The likelihood of a full recovery for coal in the Powder River Basin seems unlikely. However, rock bottom may still be a long way out, according to several analysts and industry watchers.

"I think there is no question that the PRB has changed," said Travis Deti, executive director of the Wyoming Mining Association. "The days of 400 million tons (of coal), they're behind us now and ... you're seeing an adjustment to a new normal. And the new normal is America's coal fleet is shrinking and that is obviously having an impact on production."

But to Deti, the events of the past three months have less to do with the structural decline or market conditions of the industry, and more to do with issues in management within the coal companies. He compared the last three months to 2015 and 2016, when coal companies laid off hundreds of miners.

A healthy basin is still possible, even after an "extraordinary" and "chaotic" three months in the basin, according to Godby, the economist. It simply needs to consolidate and increase its efficiency in a tightening market.

"Unfortunately, there's an adjustment that needs to happen," Godby said. That could take the form of downsizing, mine closures and likely layoffs.

"The question is how quickly it will decline," he added.

The economist said it is difficult to predict which of the basin's 16 mines might founder next. Clues to the basin's future will likely be found in the overall health of each company operating in the basin.

Absent a drastic regulatory, economic or technological miracle, the coal market will likely continue to contract, profit margins will stay thin and competition ruthless. That is, if companies do not adjust, Godby said.

"The cruel irony is that while everyone is hoping we could get the Blackjewel workers back to work, the long-term solution for some kind of health in the basin is for some of the mines to shut down, and we let the capacity adjust to the demand," he said.

Godby likens the response needed by the state and communities to what happens when a pilot flies a plane. With proper preparation and a sober outlook, harmful disruption to coal country communities can be minimized.

"The objective is to keep the plane in the air as long as possible," he said, "and land the plane as smoothly as possible."