Preparations Underway for 2019 Bluefield Coal Show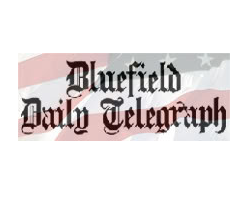 September 9, 2019 - Preparations are under way for the opening of the 2019 Bluefield Coal Show.

Cranes have already been working to unload equipment shipped in by exhibitors at the Brushfork Armory, where the show will be held Sept. 11 through Sept. 13.

The three-day event, which is not open to the public, features exhibitors from the coal industry showcasing their latest products and services.

Sponsored by the Chamber of Commerce of the Two Virginias, the biennial show has been held since 1976 and about 200 exhibitors will be on hand this year, filling the armory and the outside area around it as well.

One of those exhibitors is Komatsu Mining Corp., located on Hockman Pike in Bluefield, Va., an international company that acquired Joy Global in 2017. Komatsu was busy Friday setting up its massive display of equipment outside the armory.

Chuck Fickter, a product manager for the soft-rock business of Komatsu Mining, said the company's display will probably be the largest at the show this year, and it's a special occasion because it's the 100th anniversary of Joy Global's founding.

"We are pretty excited," he said. "It's our 100th anniversary. Back in 1919 when Joe Joy launched the company he had a mission of making mining more productive and a lot safer, and I think he would be proud of looking at this company today. We've done exactly what his original goal was."

Fickter said for 100 years the company has been a leader in the coal mining industry.

"We are proud to have our equipment on display here at the Bluefield Coal Show," he said. "Joy still remains the brand on our underground mining equipment."

Fickter said this will his 12th show and the company has been exhibiting at the show longer than that, probably from the beginning.

"For us, it's a very important show," he said, adding that a main reason is Central Appalachia is one of the largest coal mining regions in the country. "Certainly, we have a lot of people and facilities dedicated to this market."

Fickter said the show has been getting better every year and he knows customers who are coming in from as far away as Illinois.

"We will have both competitors and partners here," he said. "It's always good to see what other people are doing in the marketplace. You always feel you are on top of things but sometimes things pop up at shows that are good to know. We will have people here walking around looking at what other people are displaying."

Komatsu has several pieces of large equipment, including a continuous miner (the most popular model), a scoop (a multi-purpose utility vehicle that had been a product manufactured by Fairchild in Glen Lyn, Va. before that plant closed two years ago), a new feeder breaker and part of the company's conveyor system.

"We have lot of other parts and components and repair stuff as well," Fickter said. "We have some technology and our training people will be here… We will have a lot going on in our booth."

But one piece of equipment on display will be "front and center," he said.

"As part of our Joy 100 celebration … we have this loader that is from the late 1940s," he said. "It's unrestored and Blackhawk Mining was great enough to let us borrow it."

The loader also represents the quality of Joy products.

"We are going to have a huge recognition of our 100th year," Fickter said. "We thought this (displaying the loader) would be a really cool way to go back to our roots and pull out one of the original machines that Joe Joy built."

Komatsu also displays equipment at other shows in the country and internationally.

Fickter said he has participated in coal shows in Poland, Australia, China and South Africa.

"The equipment displayed varies based on what the country uses," he said.

The company will also have many giveaways and promotional items at the show.

"We have a whole wall of stickers we are giving away," he said, referring to reflective stickers placed on helmets used underground. "Just stop by the booth and register. Stickers are like cash underground."

A visitor to the show can learn all about the industry, he added.

"If you don't know much about mining or are into mining, this is the show to be at," he said. "It's a good opportunity to learn about the industry."

But Fickter said more can be learned than just the equipment and technical aspects.

"The biggest thing you will learn is that people have a passion for mining," he said. "It gets in their blood, it gets in their families. Their grandfather was a miner, their father, their uncle. It becomes a tradition, a very proud tradition. The industry itself is a great family."

The 23rd show is one of the largest in the country and always attracts industry leaders.

Hal Quinn, president and CEO of the National Mining Association, is one of those leaders who will attend.

Quinn was the keynote speaker at the 2017 Media and Exhibitor Appreciation Breakfast, which will be held on Sept. 11 this year with Jimmy Brock, president and CEO of CONSOL Energy, speaking.

On his return visit to the show this year, Quinn issued a statement about the show.

"The National Mining Association (NMA) and its CORESafety® framework are proud to be sponsors of the 2019 Bluefield Coal Show," he said. "Held every other year in the heart of coal country, and aptly called the 'coal show for coal people,' it is a can't miss event for anyone who cares about our industry."

Quinn said the show is an important one.

"Each time I attend, I am struck by the wide range of exhibitors and new technology on display," he said. "Attendees from across the U.S. and several continents demonstrate just how important coal is to hardworking Americans, to our economy and to the rest of the world."

Bluefield has provided a good home for the show, he added.

"Our industry is one that has changed significantly over the years, facing many challenges but also capitalizing on concrete opportunities for the future," he said. "The strong feeling of community you experience at Bluefield is at the heart of the resiliency of our industry. I look forward to coming together once again at this year's show to celebrate our collective role in providing our country greater energy security, and ensuring stronger economies for our country and communities."

Brock said he is "looking forward to coming back to Bluefield and the Tazewell area as well back home in the coalfields."

Gov. Jim Justice is also scheduled to visit the event as well as local dignitaries.

The event will kick off on Wednesday with the official ribbon-cutting to open the show at 10 a.m., shortly after the Media and Exhibitor Appreciation Breakfast, set for 8:30 a.m.

Exhibitors and attendees from over 32 states and several international groups descend on the area creating an estimated $3 million to $4 million impact to the local economy in Tazewell and Mercer counties.