CoalZoom Launches Campaign Called Saving US Coal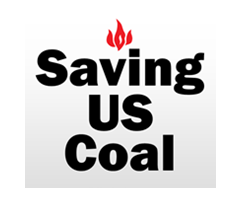 By Bill Reid, Managing Editor, CoalZoom
November 11, 2019 - In partnership with the Center for the Study of Carbon Dioxide and Global Change, CoalZoom is today launching a campaign called "Saving US Coal".
The War on Coal is over and its effects are declining, and natural gas prices are increasing, so the threat to coal from an abundance of cheap gas will disappear. Thus, the greatest single threat to the future of US coal is the so-called CO2 Endangerment Finding.
The campaign "Saving US Coal" has the single goal of generating public support and political will to repeal the 2009 U.S. Environmental Protection Agency's CO2 Endangerment Finding. This will be achieved by showing clearly:
1. There is no observational evidence of anything unusual or unprecedented about Earth's current warmth.
2. There is no real-world data confirming that flood, droughts, wildfires, hurricanes or other extreme weather events are becoming more frequent or severe due to global warming.
3. There is no indication that the mass of polar ice sheets is declining any faster than the snail's pace at which it has done in the recent past.
4. There is no evidence that sea levels are about to rise and inundate the world's coastal lowlands.
5. That fossil energy initiated the Industrial Revolution and the many human and environmental benefits that have emerged.
6. The world needs more not less CO2 emissions and fossil fuel use to enhance the future human environment.
To accomplish this goal, a series of videos are being produced to promote the benefits of CO2 and fossil fuel use. The videos will set forth the legal argument for the court filing and update two prior videos in the Greening of Planet Earth series. An introductory video can be seen here.
The Center for the Study of Carbon Dioxide and Global Change has the following key personnel who have been internationally recognized for decades: Dr. Craig D. Idso, Chairman, and Frederick D. Palmer, Senior Fellow. For more on the campaign click here.
Future articles on Saving US Coal will highlight the 24 videos being produced, which will be released about one per week; describe the key institute personnel who are making this campaign possible; and explain the need for funding the campaign.
The CO2 Endangerment Finding must be repealed for the future of coal. There is no time to be lost!