Internationally Renowned Scientist, Craig Idso, and Respected Industry Leader, Fred Palmer, are Key Players in "Saving US Coal" Campaign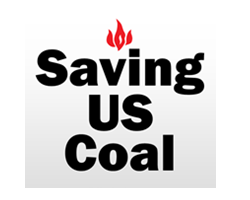 November 13, 2019 - Internationally renowned scientist, Craig D. Idso, Chairman of the Center for the Study of Carbon Dioxide and Global Change is a key player in the "Saving US Coal" campaign recently announced by CoalZoom.
A major part of the campaign is The Greening of Planet Earth Confirmed: Repealing the 2009 EPA CO2 Endangerment Finding, which is a detailed proposal designed to generate public support and political will in repealing the CO2 Endangerment Finding.
Idso founded his organization in 1998 and throughout his career, has discovered and disseminated scientific information regarding the effects of atmospheric carbon dioxide enrichment on climate and the biosphere. For over two decades he has been the lead editor and producer of CO2 Science, an online resource that publishes and maintains a massive collection of editorials and reviews of peer-reviewed scientific journal articles relating to global climate change.
Dr Idso is a world-renowned scientist whose research has appeared in many peer-reviewed journals and is the author of several books. In 2009, he became the lead author and editor for the Nongovernmental International Panel on Climate Change (NIPCC), overseeing a team of internationally renowned scientists in the production of several major reports on climate change including the Climate Change Reconsidered series.
He received a B.S. in Geography from Arizona State University, an M.S. in Agronomy from the University of Nebraska – Lincoln, and a Ph.D. in Geography from Arizona State University. Prior work positions have included Director of Environmental Science at Peabody Energy, faculty researcher in the Office of Climatology at Arizona State University, and lecturer in Meteorology at Arizona State University.
A member of the American Association for the Advancement of Science and numerous other scientific associations, Dr Idso also serves as a policy advisor for the CO2 Coalition and the Heartland Institute. Previously, he served as an adjunct scholar for the Cato Institute and a policy advisor for the Committee for a Constructive Tomorrow.
Another key player in the "Saving US Coal" campaign is Frederick D. Palmer, who is a Senior Fellow at the Center for the Study of Carbon Dioxide and Global Change with years of industry experience working on issues related to the human environment. Previously, he served from 2001 to 2015 as Senior Vice President of Government Relations, Peabody Energy, which included service on the Executive Leadership Team and managing all EPA CO2 issues. Most recently, he served as Special Advisor to the office of Peabody Executive Chairman. He served as Chairman of the World Coal Association 2010-2012.
Prior to joining Peabody, Palmer served as General Council as lead legal advisor, and 15 years as CEO, Western Fuels Association, Inc. He has served on the Board of the National Mining Association dealing with EPA CO2 matters and is an active member of the National Coal Council. Palmer was awarded the Erskine Ramsey Medal by SME. Attending the University of Arizona, he earned a Bachelor of Arts degree in 1966 and Juris Doctorate with honors in 1969. He was inducted into the Order of the Coif Honor Society.
The CO2 Endangerment Finding must be repealed for the future of coal. There is no time to be lost!