Do It The Safety Way...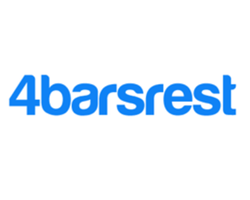 November 22, 2020 - The current COVID-19 crisis has inspired numerous online brass band videos that have entertained us whilst reinforcing the message that taking appropriate safety precautions has become an essential part in minimizing the risk to players and listeners alike - even playing a brass instrument.
We've enjoyed performances in honour of the brilliant work of NHS and care staff, as well as moving homages to those who have lost their lives due to the pandemic.

We've also admired the showstoppers from the likes of Cory and others, and chuckled at the 'Baked Potato' song featuring Matt Lucas and Tredegar as well as John Barber of Foden's with his brilliant observational ditties.
Sloganized
And all this at a time when we've been sloganized daily by the Government to keep reminding us of our responsibilities; from 'Stay Home - Protect the NHS - Save Lives' to 'Wash hands - Cover Face - Make Space', and the ubiquitous 'Rule of Six'.
However, if we need to seek further inspiration in the coming months then we could always look back to a different era - and take the lead from the curious combination of the National Coal Board (NCB), Max Bygraves and Grimethorpe Colliery Band.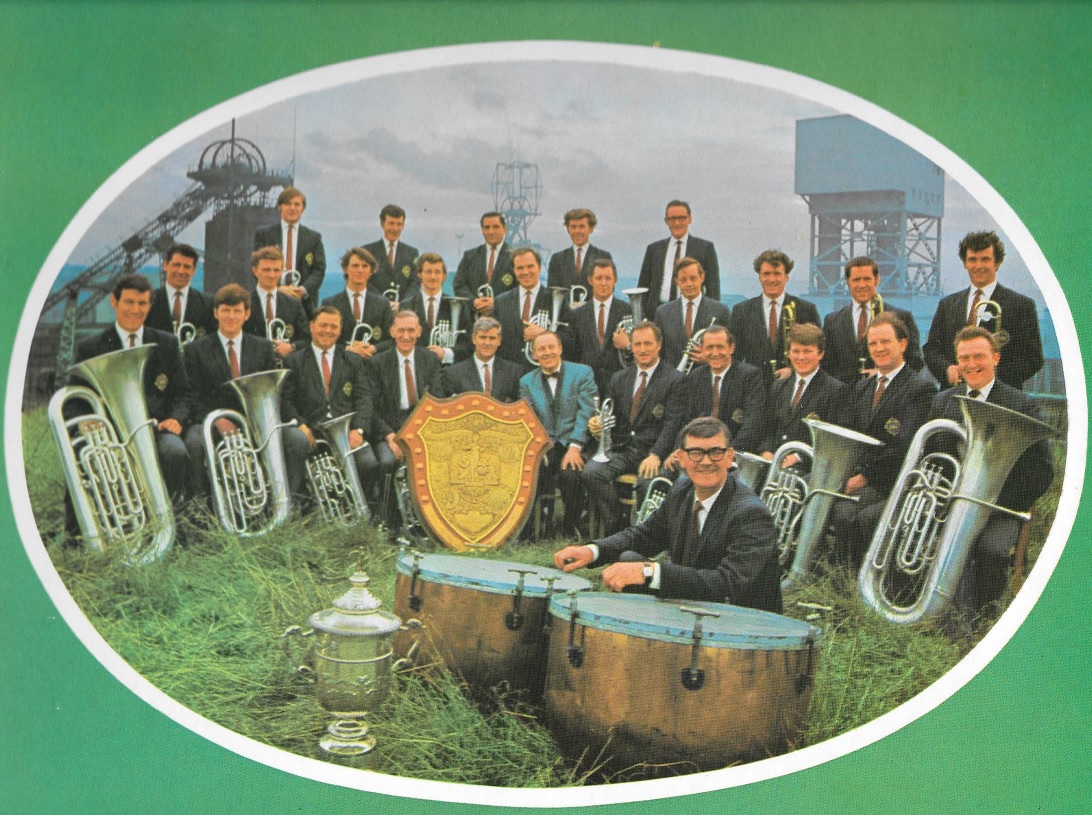 Grimethorpe's mining connection started in 1917
Miserable at Home
In January 1976 the duo released a 7 inch single called 'Do it the Safety Way' on the NCB's own record label.

In a strange, but pertinent way, it has a poetic resonance for the need to keep safe as we approach January 2021.

Although not released in response to any global virus threat (mind you the mid 1970s had enough strikes to keep people pretty miserable at home for great lengths of time) it was the idea of the NCB Public Relations Department to ensure that people in every part of the industry was reminded that coal mining was a dangerous and potentially fatal job to be in.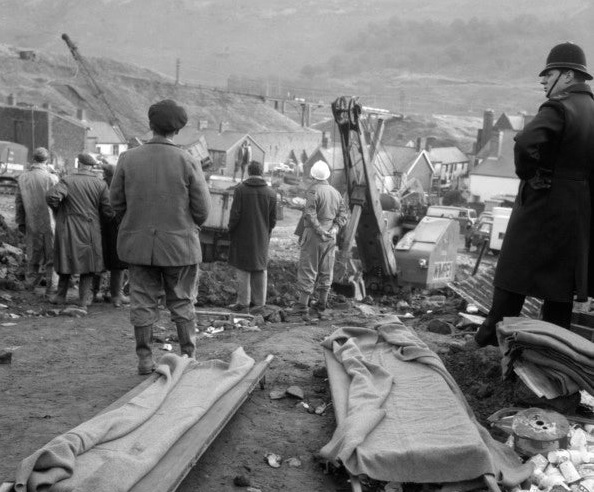 The mining industry knew all about tragic loss...
Stark Statistics
Looking at the statistics you can see why.
According to the Coalmining History Resource Centre, between 1900 and 1950 (three years after the industry was nationalized), 59,580 men had been were killed. Over the next quarter of a century on average over 400 miners lost their lives each year. Accidents were common place.
In 1975 there were 241 working collieries in the UK, employing 247,000 men producing 126,000 tonnes of coal (by the end of the century it was down to 28 employing less than 8,000 men and 31,000 tonnes).
And despite 1977 being classed as National Safety Year, accidents were still common place – many serious: Death was ever present, and there were further tragedies to endure - including seven men killed at Bentley Colliery in 1978 and 10 at Golborne Colliery in 1979.
Communal Concern
Safety was a paramount, communal concern – both below and above ground, and the NCB was proud of its record which had seen fatalities start to decrease substantially.
However, despite employing over 120 Mines Inspectors it was still accustomed to terrible, tragic loss: from the 1965 Cambrian Colliery explosion which killed 31 men and the 1966 Aberfan disaster which claimed 144 lives, to the Markham Main and Lofthouse Colliery accidents in 1973 in which a total of 25 miners were lost.
And despite 1977 being classed as National Safety Year, accidents were still common place – many serious: Death was ever present, and there were further tragedies to endure - including seven men killed at Bentley Colliery in 1978 and 10 at Golborne Colliery in 1979.
You need hands...


Odd then that given the seriousness of the message (which was always reinforced at the pithead before any miner descended underground), the National Coal Board should choose an old crooner to spell it out to hard-nosed colliers and their pals accompanied by the 1975 National Mineworkers Champion Band.
You Need Hands
However, despite a variety performance career that started just after the Second World War, Max Bygraves (1922-2012) was still a big name in 1976. His catch phrase of 'I wanna tell you a story' was almost as popular as the novelty songs which he cleverly marketed to gain a wide family orientated audience.

'You Need Hands', 'Tulips from Amsterdam', 'Fings ain't wot they used to be' and the truly memorable 'Gilly Gilly Ossenfeffer Katzenellen Bogen by the Sea' sold by the bucketful.

Even at the peak of Marc Bolan and the Glam Rock era in 1973 he has a top 20 hit with 'Deck of Cards'.
He was also a very astute businessman; buying the past and future rights to Lionel Bart's 'Oliver' for £350 and later selling hem for £250,000. He was still appearing on the prime time 'Family Fortunes' television quiz show in the mid 1980s.

Bygraves was rumoured to have been paid £7,500.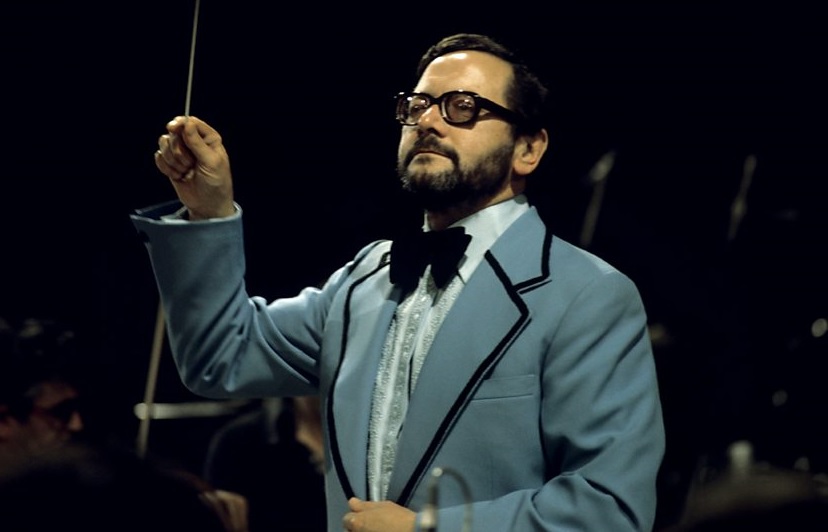 Ron Goodwin wrote the music for the release
The idea of a NCB 'Safety Song' was adopted by its Chief Safety Officer, John Collinson.

The words were written by Jack Birchall, an administrative officer at Bickershaw Colliery (which had a famous band of its own in its history) who won a competition to write for the release through the industry newspaper 'Coal News' (which ran from 1947 to 1983) from hundreds of entries.
Escape From the Dark
Ron Goodwin (1925-2003), who wrote the film scores to '633 Squadron', 'Where Eagles Dare', 'Battle of Britain', 'Frenzy' and 'One of our Dinosaurs is Missing' amongst others, provided the soundtrack (it not known how much he was paid).

It renewed a link to the band and the mining industry after he wrote the brass band score to the 1975 Disney film 'Escape from the Dark' starring the great Alastair Sim.

That was also recorded by Grimethorpe in 1976 and released on an LP conducted by the composer.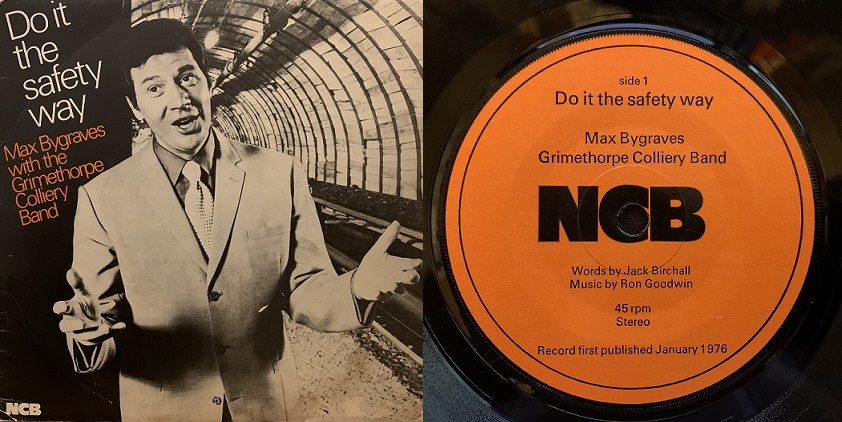 The record came in the famous NCB corporate 'donkey jacket' colors of orange and black
Every Miner
Reportedly the print run was 250,000 copies – one for every NCB employee plus a few more for good luck and soon boxes of 'Do it the Safety Way' were soon sent to each pit with instructions that one 7 inch release was to be issued to every miner – especially trainees.
There were also beer mats printed that were sent to every 'Miner's Institute' in the UK. The message was there to be both seen and heard – at the pit (where it was sometimes played over the tannoy systems), at home and down the pub.
The B side featured the band playing the march 'Old Comrades'.
Effective
It proved to be both popular and effective (although there were complaints when it was blasted into the showers of some pits at the end of a shift), and even though there is no actual statistical evidence it directly led to a decrease in accidents – years later former miners can still recall the lyrics of the infuriatingly catchy song.
As the sleeve note said; it gave the release "hit parade appeal" – jaunty and upbeat. Even the lyrics 'Unless the roof's supported, its odds on it will fall; And if your underneath it, it's not very nice at all', was accompanied by the sound of a 'comedy' xylophone effect.
It wasn't released commercially though, despite Bygraves' reinforcing producer Wally Ridley saying of him that "…his great talent was that he could punch lines, which was absolutely great for us. We'd give him songs with very short lines and he'd punch them out marvellously."
Just as Pertinent Today...
And which, all in all brings us to how 'Do it the Safety Way' remains curiously pertinent at this present time.
The fifth and sixth verses rather sum up our present predicament…
'Wear your safety equipment;
It's meant to see you through.
Ignoring this protection
Is a stupid thing to do.
We hope you'll never need it
But don't forget you may…
Safety sense is common sense
And nobody but fools
Risks life and limb by stupidly
Ignoring safety rules.
Think safe and you'll be safe
And that is why we say:
Common sense saves accidents,
Do it the safety way.'
Thanks Max – and thanks Grimethorpe Colliery Band circa 1976.
Perhaps every pack of face masks and bottles of hand gel we have to buy now and for the foreseeable future should come with a download version of 'Do it the Safety Way'.
Iwan Fox
---
You can hear the record at: https://www.youtube.com/watch?v=KYRbb1aSh-U