Come to the World's Largest Mining Show – MINExpo INTERNATIONAL®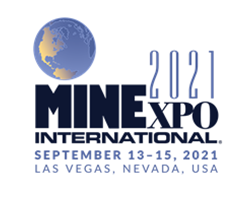 June 11, 2021 - MINExpo INTERNATIONAL® 2021 is the world's largest mining show, and registration is open for this fall's in-person show, which takes place in Las Vegas from September 13-15, 2021. Originally scheduled to take place in September 2020, the event, which brings together 40,000 exhibitors, attendees and event partners, was postponed by the National Mining Association (NMA) in May 2020 and rescheduled for Sept. 2021, when it became evident that the COVID-19 pandemic made holding MINExpo® in September 2020 impracticable.
Many countries around the world are planning massive infrastructure and energy pushes to reignite their economies post-pandemic. Mining is central to those efforts and the very picture of economic recovery will be on display at MINExpo®. Mined materials are the building blocks of every infrastructure project and all future energy technologies, feeding the world's manufacturing, technology, defense and medical supply chains. Demand for mined products is poised to soar in the coming years.
Held typically every four years, MINExpo® is the world's largest and most comprehensive global mining event, bringing together worldwide industry leaders who are looking to purchase the latest equipment and services, explore innovative new technologies, meet face-to-face with suppliers and make valuable new connections. MINExpo® covers the entire industry—including exploration, mine development, open pit, underground mining, processing, safety, environmental improvement and more.
Additional details can be found on the MINExpo® website, which continues to be updated as additional information becomes available. Press who are interested in registering should do so here, and attendees may register here.
NMA is the proud sponsor of MINExpo INTERNATIONAL® and is U.S. mining's advocate in Washington, D.C. and beyond. The NMA is the only national trade organization that represents the interests of mining before Congress, the administration, federal agencies, the judiciary and the media—providing a clear voice for U.S. mining.