Rosebud Mining Seeks State Approval to Extract More Coal From Existing Site Near Windber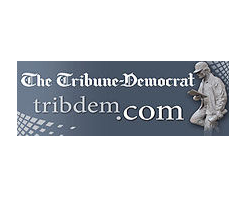 By David Hurst
January 12, 2022 - In Pennsylvania, Rosebud Mining is seeking approval to open a strip mine near its coal preparation plant.
The company has requested a state permit to mine metallurgical coal from a 46-acre area that stretches east and west of the company's Centennial Drive plant, according to plans submitted to the state Department of Environmental Protection.
As proposed, surface mining would extend west into a wooded area of Richland Township. The proposed permit area would travel to the Windber line, where Railroad Street begins, a DEP map shows.
"It's not a terribly large mine," said Rosebud President James Barker. "We're just going to be going further into a seam that was already previously mined."
That will mean continued work for a crew of five to seven Rosebud miners, he said.
Access to the proposed surface mine would be 879 Centennial Drive, which is the same entrance as Rosebud's deep mine and prep plant, according to Department of Environmental Protection spokeswoman Lauren Fraley.
Because of that, coal removed from the surface mine could be hauled on Rosebud-owned roadways – rather than public roads – to transport the sedimentary rock for plant "cleaning," she said.
Rosebud has been mining the area alongside Centennial Drive for more than 15 years. Before that, coal was extracted from the Mine 78 corridor by Bethlehem Steel Corp. subsidiaries.
Metallurgical coal is mined from the ground and sold to steel companies, which fire it in their coke ovens for the steel-making process.
Metallurgical coal burns hotter than the coal used in power plants – and both demand and prices for the mineral have surged at times globally over the past few years.
If the state approves the company's application, Rosebud would supply the coal to mills such as U.S. Steel in Pittsburgh and operations in nearby West Virginia and Ohio, according to Barker.
Virtual Meeting Planned
As part of the permit application process, the DEP is hosting a virtual public information meeting to enable the public to ask questions and receive additional details about the proposed surface mine.
The meeting will be held from 6:30 p.m. to 8 p.m. on Jan. 19, using the Webex video conferencing platform.
Representatives from DEP and Rosebud will present information on the permit review process, show maps onscreen and discuss the proposal, Fraley said.
Anyone interested can participate by registering 24 hours or more in advance by emailing name, phone number and email address to nndimbie@pa.gov or by calling 412-442-4126.
Copies of Rosebud's permit application are on display at Windber Public Library, 1900 Graham Avenue, for the public to view.
Additional details are posted on the DEP's website. Written comments can be accepted until Jan. 31 and may be submitted to the Pennsylvania DEP's Cambria District Mining Operations at 286 Industrial Park Road, Ebensburg.
Waterway Regulations
Any areas "disturbed" by new mining would have to comply with environmental regulations to protect nearby waterways, Barker said.
That means when rain occurs, water traveling through the surface-mine area would have to be captured at the site and treated to meet DEP standards before it could be released again – in this case into unnamed tributaries of Paint Creek.
If approved later this year, Rosebud could begin excavating coal from the area late in 2022 or early 2023, he said.