Coal Companies Donate Time, Material to Rehabilitate Beckley Exhibition Coal Mine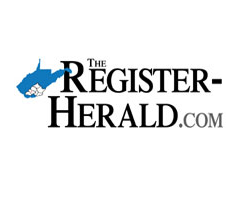 By Josephine E. Moore
January 15, 2022 - For the past two weeks, West Virginia's Beckley Exhibition Coal Mine has been busy with activity, but it's not from tourists.
Instead, the sights and sounds coming from the mine are more what people would expect to hear from an active coal mine as crews with Jennmar Services complete a massive rehabilitation project that spans the entire mine.
The project, which is meant to ensure the safety of the mine for generations to come, is a result of a generous donation made by Affinity Coal Company, which has not only planned out the project but also contracted Jennmar to do the work.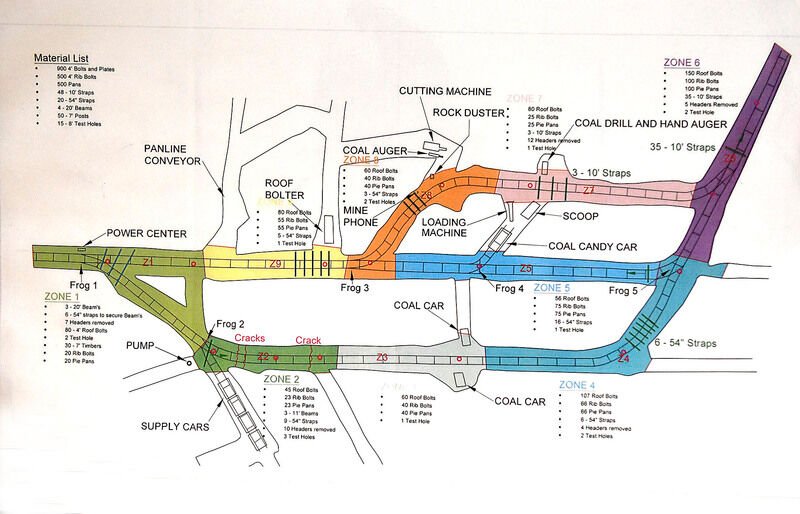 Map of renovation work in the Beckley Exhibition Coal Mine

Photo: Rick Barbero/The Register-Herald
A Lucky Break
Tony Basconi, the mine foreman, said he's still in a bit of disbelief at the way everything came together.
Basconi said he and fellow tour guide Dorsel Turner, who both retired from working in coal mines with at least 40 years of experience, have worked at Exhibition Coal Mine for about five years and had noticed a few things in the mine that needed to be addressed.
Some of these concerns included wooden beams and headers on the roof of the mine that had rotted as well as bolts on the mine's ribs, or side walls, which were severely rusted.
Basconi said these issues did not warrant immediate concern but could turn into a safety issue in the next decade or so if ignored.
"We were looking for somebody to come in and help us ... just to make it safer," he said. "We're not saying that our mine wasn't safe but just to bring it up to today's standards."
But as it turned out, that was easier said than done.
Not only was it difficult to find a business that had the necessary equipment to come out and do some work, it was also impossible to find the materials in the small quantity that they needed so that Basconi and Turner could possibly do the work themselves.
"We want to make this a better place. We want to make it a safer place," Basconi said. "We have done a lot of work here – electrical work, plumbing, getting the water out of the mines ... But this here was more than we could take on because we needed machinery. And, you know, I'm in my early 60s. (Turner is) almost 70 ... We're retired from mines and we can't do all this stuff."
Having started making calls on this project in early 2021, it wasn't until November when Basconi and Turner ran into a bit of luck.
Turner said he was just offhandedly talking to a friend and retired coal miner, Bennie Miliam, who suggested he call Susan Osborne, who worked in the human resource department at Affinity Coal Company.
Not expecting much, Basconi said he made that call to Osborne and 15 minutes later he was on the phone with Affinity's Safety Director Jason Chapman, who discussed logistics and wanted to bring a crew out to look at the mine and see what needed to be done.
In addition to wanting to develop a plan to make the mine safer, Basconi said Chapman also discussed bringing in a contractor they work with, Jennmar Services, to complete all the recommended work.
But the shock didn't stop there. Everything from the planning to the equipment and materials and even the labor would be covered by Affinity and Jennmar.
"They're not charging us a penny to go in and do this," said Basconi, who estimates the cost of material and labor to be in the tens of thousands of dollars.
He added that he's optimistic that the work being done by Jennmar will go a long way in preserving the mine for generations of visitors to come.
"In 2019, we had 50,000 people go through this coal mine," Basconi said.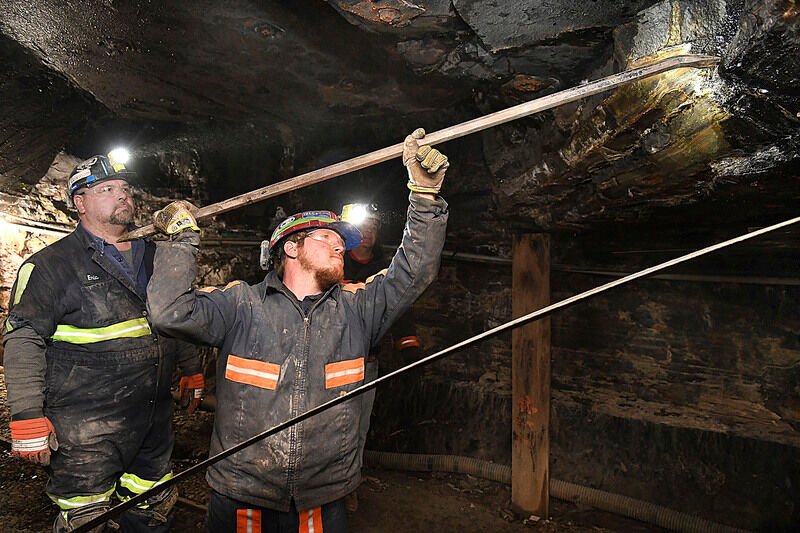 Eric Coleman, foreman for Jennmar Services, left, watches red hat Jamie Mullins, of Man, scale the roof inside the Exhibition Coal Mine. The mine is getting renovated with help from Affinity Coal Company and Jennmar Services.

Photo: Rick Barbero/The Register-Herald
Basconi and Turner said they take great pride in giving visitors a tour of the mine, whether they're from out of town and have no idea what a mine looks like or a former coal miner just wanting to take a trip down memory lane.
"I enjoy talking to the people that has no idea what a coal mine looks like," Basconi said. "And you'd be surprised how many people come in our age that don't even know what a coal seam looks like. And then they say, 'Well, what do they do with it?' and we tell them, 'Well, this light comes on because of that.'"
"It's unreal," Turner said, almost finishing Basconi's thought. "A lot of these people who come, their grandfathers or their fathers were coal miners and they absolutely get emotional."
"Sometimes they come out, and they really, really enjoyed their trip and they'll be coming out wiping their eyes and they hug you and they want to tell you, 'We had no idea it was like this.'"
"Some of the most enjoyable tours I've done, say some granddaughter brings her grandfather who wants to go into a mine one more time. Yeah, they all come out crying."
The Work
To get a better picture of the work being done, Turner took The Register-Herald on a tour of the mine last week as it was being worked on by a crew from Jennmar Services.
Before the tour started, Turner pulled out a map of the mine, completed by Affinity and Jennmar, which details all the rehabilitation work they planned to complete.
The map broke the mine down into nine zones. Off to the side of each zone was a list of materials and the quantities that would be needed for each zone.
In the left-hand corner of the map, the quantity of material was totaled and included 900 four-foot bolts with plates, 500 four-foot rib bolts, 500 pans, 48 10-foot straps, 20 54-inch straps, four 20-foot beams, 50 seven-foot posts and 15 eight-inch test holes.
For someone who has never been in a coal mine, it would be hard to understand what those materials would be needed for, but Turner said he'd explain everything during the tour.
Although typical tours through the Exhibition Coal Mine are done in a coal mine mantrip, a cart that's situated on tracks, this tour had to be taken on foot as the mantrips had been replaced with machinery.
Hard hats were also an out-of-the-ordinary necessity for this tour as a precaution for falling debris or well as failing to duck far enough under the beams on the roof.
Once outfitted with the necessary safety equipment, Turner started his private tour of the mine with The Register-Herald.
The first things he pointed out, after entering the mine, were the shiny new rib bolts that had been drilled into the walls on either side of the mine. In a coal mine, Turner explained, these side walls are called ribs.
Screwed in with several of these rib bolts were square sheets of metal that were roughly one square foot.
"See these bolts right here with those big plates on them," said Turner, pointing to one on the wall. "That keeps that rib from falling off ... See they're about every few feet apart."
He added that those sheets of metal screwed in with the bolts are called pie pans because of their size.
He also pointed out the old rib bolts which were all rusted, something that's unavoidable given the age of the mine.
Turner said they were not planning to remove the old bolts, just surround the old bolts with new ones to better secure the walls.
Turner pointed to several new beams that had been installed on the roof of the mine, replacing old rotted ones that were now lying in a pile to one side of the mine.
He also pointed to long metal straps that were recently bolted to the roof of the mine that are several feet long and go under the beams on the roof to add another layer of support.
"These (metal straps) weren't around when I was working in the mines," Turner said. "That's something new that's been added."
As he continued the tour deeper into the mine, the sound of drilling began to echo through the mine, getting louder and louder.
The source of the noise was a large machine which Eric Coleman, a foreman with Jennmar Services, was using to drill holes in the roof of the mine in order to drill in roof bolts.
Coleman, who is from Logan County, said he's been in the industry for 29 years and is proud to be a part of a company that would donate materials and people to preserve a piece of history that is not only important to Raleigh County but the entire state.
"We feel fortunate to be able to come in and help rehabilitate it, just from the history and culture for different people as they come to our region," he said.
He added that while the work he's doing isn't any different from what he'd do in an active mine, they're taking extra care to make sure it looks aesthetically pleasing to the thousands of tourists who will come through the mine.
"Everything that the guys are doing, especially here, we're taking extra time to make sure that everything looks all right ... we may turn each plate to where they're straight. And even back in the first section (of the mine) we left one of the older beams in there with our new ones so people could see it for the tour part," Coleman said.
While the work being done by Jennmar is hugely beneficial to the Exhibition Coal Mine, Coleman said they have also been able to use it as a way to train rookie miners or "red hats" as they're called because of the red hard hats all trainees wear.
"Both weeks we've brought different red hats with us, so it's just getting them acclimated to the mine in a pretty neat area to do it," he said.
Another thing Turner pointed out on his tour was several small black signs which had been written on with white chalk.
"Right here is where I come through this morning and fire bossed," he said.
Turner explained that fire boss is a title given to people completing a safety examination in a coal mine. As part of being fire boss, Turner said that morning he walked through the entire mine, before anyone else arrived, and examined the entire area to make sure it was safe.
He also pulled out a device that can detect if methane or other types of gas are in the air.
After an area is checked, Turner said, he writes on a black chalk board the date he fire bossed the area and notes that everything checked out.
Once Jennmar completes work in the mine, a new part of the fire boss check list will be checking several test holes drilled by workers in the roof of the mine.
"We've left some holes open so (Turner is) able to check it when he does his fire boss," Coleman said. "He'll run a tapeline up in that hole, and if there's any shift in the roof, he'll feel it."
Turner said another benefit that came from the rehabilitation work being done by Jennmar is that they learned that the earth above the mine is solid sandstone, which is the best type of top for a mine.
Before Jennmar and Affinity came in, Turner said he and Basconi had initially been more concerned about the roof of the mine than the ribs and were pleased to find out that the roof was in pretty solid shape.
Coleman said he estimates that it will take another two weeks to finish all the work they have planned for the mine.
Celebrating 60 Years
Beckley Exhibition Coal Mine Complex Director of Operations Leslie Baker said this rehabilitation work could not have come at a better time.
"There's a lot of things that have come together," she said. "It's our 60th anniversary. The opening of the new National Park. We saw our attendance go up quite a bit ... It's just so important that we do everything that we can to just be the best that we can be, and this was such an opportunity."
Baker said the last time the mine underwent any type of major work was in the '80s and '90s.
"There was nothing wrong safety-wise underground," she said. "It was just time for us to do major work again and just to make sure that it is totally the best possible underground visual coal mining that we can give our visitors that come."
With all the new technology available now, Baker said the work being done will bring the mine into the 21st century of safety standards.
"We cannot express enough how grateful we are to these companies to have come together like this," she said. "I've always loved this job and the honor and the privilege of being able to carry our culture and make sure that we do it in the best way possible."
Like many other businesses and attractions, Baker said that they were hurt by Covid over the past two years and were even closed for periods of time when they would have typically been open.
Baker said their typical season starts in April and runs to the middle of December.
She said she hopes this upcoming 60th season will be more like it was prior to Covid.
A Lasting Relationship
With the rehabilitation work halfway complete, representatives from Jennmar and Affinity have already begun discussions with Baker, Turner and Basconi about what else they can do to assist the exhibition coal mine.
Dennis Richard, an engineer with Jennmar, said he would like to find a way to be able to show more of the updated tools and machines coal miners are using in the mines today.
"This mine is good and it's bad," Richard said. "The good is, everyone gets to come in and see the coal mine and everything, but when they leave here, they think we're still picking and shoveling coal and running 1950s equipment."
He added that he's already begun reaching out to companies that may be able to donate updated equipment to display at the mine as well as a video that can be played on loop that shows what it's like to work at a coal mine in the 21st century.
Jeff Birchfield, a general manager with Affinity Coal, said working on this project feels personal.
"This is part of our community," he said. "A lot of us are from here or from 30 minutes down the road ... I've been here a couple times, even brought my little girl. We're just excited to be part of it."
Chapman said he remembers coming in for the first site visit to see what needed to be done to the mine.
"Initially, the work that had been discussed was a few pieces of wood that had rotted out, but after our first visit, we realized that it needed a lot more work," he said.
Lincoln Birchfield, an outby superintendent with Affinity Coal, said knowing that additional work was needed to rehabilitate the mine only made them more invested in getting the work done.
"I think for all of us, you know this is our home," he said. "The majority of us were born close to the area. We want to preserve where we came from and this is a big thing for Beckley. So we were going to do whatever we had to do to be a part of that."