MSHA Fatality Alert - December 6, 2021
January 21, 2022 - On December 6, 2021, a miner was fatally injured while he was working in a pan feeder under a chute. While attempting to remove angle iron that blocked the chute's gate from closing, he was engulfed by material that fell from a surge pile above the chute. The victim died from his injuries on December 10, 2021.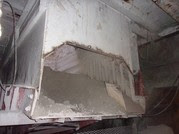 Best Practices
Do not allow miners to travel on or below material that is on or above the sides of a bin, hopper, or chute.
Provide mechanical devices or other effective means to protect miners from entrapment by caving material.
Provide and maintain a safe means of access for all working places.
De-energize, lock out, tag out, and block machinery or equipment against hazardous motionbefore performing repairs or maintenance.
Examine work areas and equipment. Correct defects, or report them to the operator.
Train miners to performtheir assigned tasks safely.
Miners and mine operators can find safety and health information on MSHA.gov.