EIA: US Coal Production Dips 6% in Week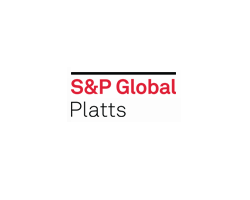 May 2, 2022 - Weekly US coal production fell below 10 million st for the first time since Jan. 8 in the reporting week ending April 23, according to US Energy Administration data released April 28.
The seven-day production total for Week 17 finished at 9.9 million st, a decline of 6% and roughly 631,000 from the output for the week ending April 16.
Production for 2022 stood at 158.2 million st through April 23, up from 150 million through 17 weeks of 2021. Annual gains were driven by production in the Wyoming-Montana region, which has 81.8 million st of production so far in 2022, 8.5% ahead of last year's pace. Central Appalachian and Northern Appalachian year-to-date numbers also stand ahead of comparable 2021 figures, while Illinois Basin figures trail.
For the most recent reporting week, Illinois Basin led the four major regions in production declines by percentage, falling 10% in seven days. The region produced 1.2 million st of coal, down from 1.32 million a week earlier and 15.2% short of the year-on-year figure of 1.41 million st.
Northern Appalachia Week 17 coal output moved back 1.6% and 26,000 st in a week to 1.6 million st. Annual regional production stands 6.1% ahead of 2021's pace at roughly 31.2 million st. Central Appalachian production dipped by 100,000 st to 1.1 million st. The region's production stands roughly 430,000 tons and 2.1% ahead of 2021's pace.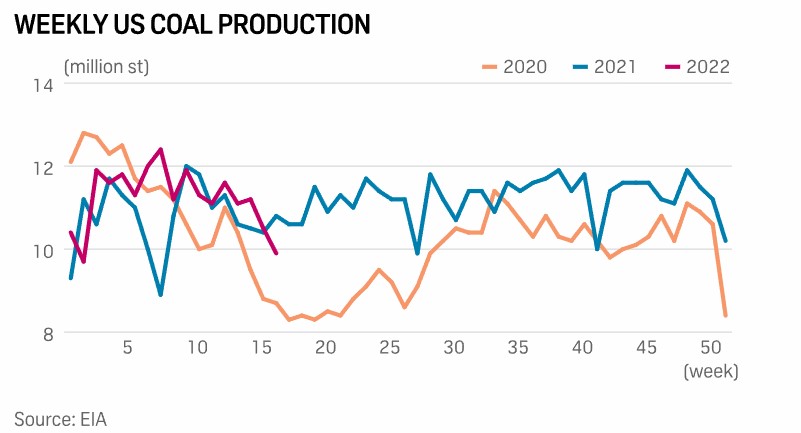 Coal production in the Powder River Basin, classified at Wyoming-Montana by EIA, dipped by 264,000 st to approximately 4.7 million tons. Its year-to-date totals stand nearly 6.4 million st above 2021 output.
State coal output changes of note in the reporting week include a 95,000 st decline to 617,000 st in Illinois and an 89,000 st drop in West Virginia. Wyoming saw weekly production fall 210,000 st to 4.2 million st.