West Virginia Governor: Trump Made a Mistake Not Endorsing McKinley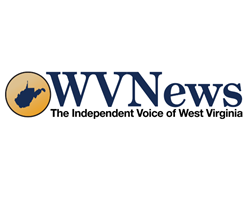 May 8, 2022 - West Virginia Gov. Jim Justice said Thursday that an ally — former President Donald Trump — "made a mistake" by not endorsing U.S. Rep. David B. McKinley for re-election this year.
Justice's comments came as he and McKinley, R-W.Va., made a joint appearance at the Touchstone Research Laboratory campus in Triadelphia. It was there that researchers unveiled a revolutionary product, Veloxint, that will be manufactured at the facility.
Trump has endorsed McKinley's opponent, Rep. Alex Mooney, R-W.Va., in the race for the District 2 U.S. House seat representing West Virginia.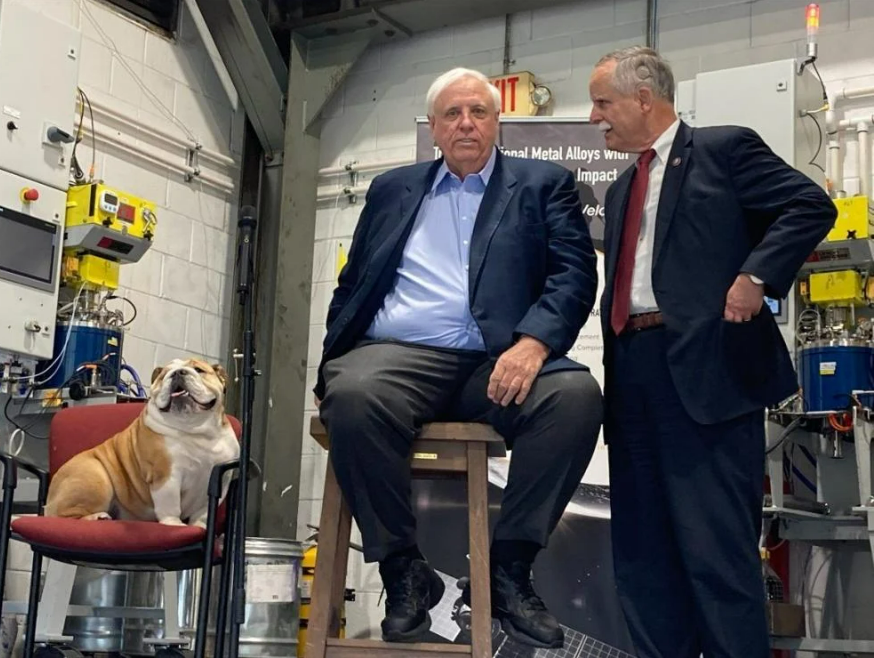 West Virginia first dog Babydog, left; Gov. Jim Justice; and U.S. Rep. David B. McKinley, R-W.Va., discuss politics and the new Veloxint product being produced at Touchstone.

Wheeling Intelligencer photo by Joselyn King
"Now I don't have a dog in the fight against Alex Mooney in any way," the governor said. "But I can tell you I have been close with the Trump family, and I am friends with Trump. From time to time, he can make a mistake. And this time, he has made a mistake.
"This man (McKinley) did something that probably agitated the president when he voted for the infrastructure bill. Just think about it — what kind of guts did it take to do it? At the end of the day, don't we in West Virginia need that? Are you kidding me?"
Justice acknowledged McKinley sometimes agitates him.
"He drives me crazy with stuff all the time," Justice said. "He won't quit doing it — all the time. I've talked to Alex Mooney since I've been in office one time."
Justice added that McKinley's tenacity is why innovative places such as Touchstone Research Laboratory exist.
Brian Joseph, president and CEO of Touchstone, explained to those present what it is that happens at Touchstone.
Touchstone Research Labs — one of a number of companies on the Touchstone campus — focuses on the aerospace industry.
"When you see any airplane being built, that business has probably tested the metal that is on that airplane — any airplane in the U.S., and probably in Europe," Joseph said. "If you see a rocket take off into space, the probabilities are they tested some of the materials on that rocket. That's what they do everyday."
Other companies on the Touchstone Campus include C Foam LTD, manufacturers of a successful product made from local coal that is being sold worldwide. It is designed to meet the growing demand for ultra-high performance engineering materials in the military, industrial, aerospace, and commercial product markets.
Next door, Touchstone Advanced Composites makes the molds needed for carbon fiber airplane parts. The company has made half the molds for X-59, the first supersonic airplane that can exceed the speed of sound and won't make a sonic boom, Joseph explained.
Then he spoke about Veloxint, a nano-crystaline alloy coming from copper, titanium or chrome. Its particles are so small, it can be used in the 3-D printing of metal tools – something that wasn't possible before
Veloxint was developed at Massachusetts Institute of Technology, but metal products aren't easy to manufacture in the Boston area, according to Joseph. Researchers there contacted him about moving the product to Touchstone.
Joseph sees about 100 local jobs associated with Veloxint being phased in over the next few years, and he credited both federal and state officials with helping to move Veloxint to the Touchstone Campus. Touchstone recently received a $5 million U.S. Department of Energy program that helped make the project possible.
"That's the thing that launches this business at this location, in my opinion," Joseph said. "This is brand new, and just in the past few weeks. For this, I would like to thank the Congressman.
"So how can we invent all this stuff and spin businesses out? It's government-funded research that does that. And the Congressman's office has been fantastic at helping us, mentoring us, and helping us to find ways to make this stuff happen."
He said what happens on the Touchstone campus can be attributed to McKinley, a civil engineer whose company designed the campus.
"Even if he weren't in Congress and I wanted to know something about the infrastructure bill, that's who I would call," Joseph said.
McKinley said he and Joseph have been working together on projects since 1983.
"One of the most crucial things we can do in West Virginia is diversify our economy through research and finding different things we can do," McKinley said. "That's the future of West Virginia – diversification…
"The good news is, positive things are happening."