West Virginia Governor Committed to Completing the Coalfields Expressway and King Coal Highway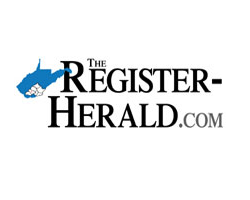 May 8, 2022 - WV Gov. Jim Justice said he is committed to doing all he can to see a process in place to complete the Coalfields Expressway and the King Coal Highway.
Justice said during an interview after a ribbon-cutting at Pipestem State Park earlier this week that his commitment on the two long-planned highways has always been front and center.
He said he stood in Crab Orchard where the Coalfields Expressway ended at the time (to launch his SOS-Save Our State tour in February 2017) and remembered how long the highway had been in the works.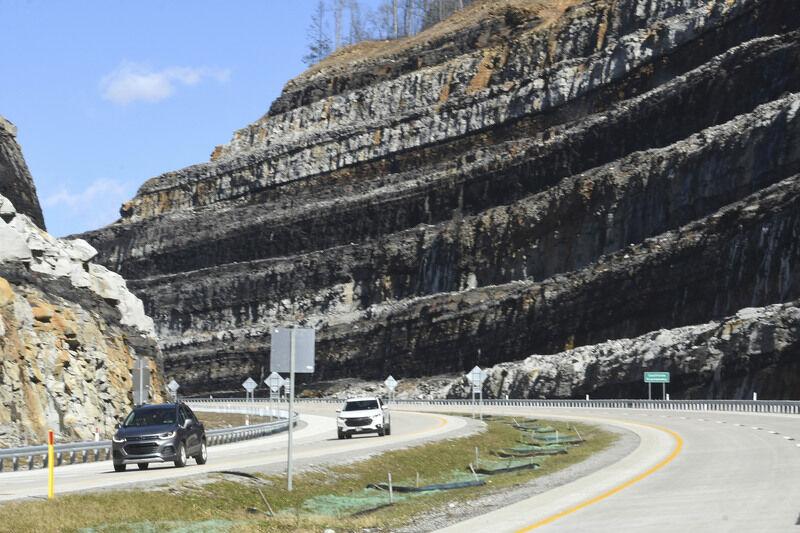 Construction of the Coalfields Expressway will be the first usable four-lane in McDowell County's history.

Rick Barbero/The Register-Herald
"It had been in the making for 28 years," he said of the Coalfields Expressway, "and I said, 'Are you kidding me? Are you totally kidding me? and that bridge to nowhere in Bluefield, are you kidding me? What is wrong with us?'"
The Christine West Bridge (bridge to nowhere) is part of the King Coal Highway and was finished more than 12 years ago but was still idle when Justice took office.
"We moved at lightning speed compared to where it had been," he said of the progress on those two highways. "We are going to stay at that (lightning speed)."
Since that time, the Coalfields Expressway was completed to Mullens and work is now underway to extend it to Welch. However, any work on the last segment in West Virginia to the Virginia state line near Bradshaw has not been announced.
Justice attended the groundbreaking for the work on the King Coal Highway 3.8-mile extension from the Rt. 460 interchange (and the Christine West Bridge) to Airport Road in May 2019.
The extension was initially scheduled to be completed last year, but the work is ongoing and should be finished this year.
But the next section from Airport Road to Littlesburg Road/Rt. 52 has no timetable and no preliminary work is yet being done.
Justice also responded to a recent prediction by Jimmy Wriston, state Department of Transportation secretary, that the West Virginia portion of the Coalfields Expressways should be completed in about 10 years, saying Wriston is committed to finishing the highways as well.
"I have sat on everybody because I want the King Coal Highway and the Coalfields Expressway finished because it is the link to tie us in southern West Virginia (to economic development) and I promise you Jimmy Wriston is working night and day if he doesn't want me on his hind end," Justice said. "At the end of the day, we are making real progress. I don't think we are going to finish it in a year or two," but progress will be made far faster than it was before he took office.
Money from the infrastructure bill can be used for the projects, but so far the amount of funding set aside for the highways and where the money will be spent have not been announced.
During the interview, Justice also said he would "love" to see the personal income tax end in West Virginia, an initiative he started during the 2021 legislative session but it failed to gain traction with legislators.
"I have got to get real cooperation from the Legislature in that they will sit down and have a real, detailed, intelligent discussion because it is very complicated," he said, adding that it is not just a matter of cutting the tax by, for example, two-tenths of 1 percent because "at the end of the day, that's not going to get anything done."
Justice said what he wants to see happen is to "get rid of the personal income tax in a very short time period."
"If you do that, people will believe you are doing that (getting rid of the tax) enough to come," he said of people who want to relocate to a state that has no personal income tax. "If you put us on a 10- or 15- or 30-year path to decrease our income tax, nobody will come."
But if people know West Virginia is going to end it, they will move here.
"We need to grow people in West Virginia," he said. "But we've got to have a detailed, intelligent conversation because it is complicated. I'm a math guy through and through and it took me two or three months to really get dialed in to a way that every single person can end up with more money in their pocket, and the state can absolutely achieve all of this. It is doable. It is absolutely doable. But it's not doable just standing back and throwing a dart in the dark."