Rain Returns to Australia's NSW Coal Fields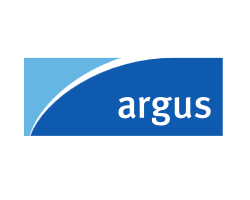 By Jo Clarke
May 9, 2022 - Rain has returned to Australia's New South Wales (NSW) coal fields after a spell of drier weather that saw the vessel queue at Newcastle port ease to 20 from 46 in February, as the Newcastle Coal Infrastructure Group (NCIG) increased throughput in April.
The port of Newcastle, which includes the NCIG terminal and two Port Waratah Coal Services (PWCS) terminals, shipped 11.77mn t of coal in April that was up from 10.61mn t in March but down from 12.78mn t in April 2021. The month-on-month rise was because of increased shipments by NCIG to 4.53mn t from 3.18mn in March, offsetting the fall in shipments by PWCS.
This was the most shipped by NCIG since September and reflects an easing of rainfall at Newcastle and along the supply chain from the coal mines in the Hunter valley and other inland regions of NSW in April. The start of May has been even drier, although rain returned on 9 May and is forecast to continue with up to 25mm expected by the Bureau of Meteorology (BoM) this week.
The ground in the Hunter valley is saturated with several mines already close to or at maximum water storage capacity, with more rainfall likely to lead to flooding or to disrupt mining activity and coal loadings. Winds are also set to increase over the week, potentially disrupting coal loading at Newcastle, where an excess of freshwater within the harbour is already making it tricky to manoeuvre large coal vessels
The BoM expects above average rainfall for most of Australia during June-August, with an 80pc chance of above median rainfall in large areas of inland Australia, including parts of the Hunter and Gunnedah valleys that contain coal mines. The coastal regions, including the key ports of Newcastle and Port Kembla, are more likely to have an averagely wet winter.
Argus last assessed high-grade 6,000 kcal/kg NAR thermal coal at $371.81/t fob Newcastle on 6 May, down from a peak of $384.80/t on 11 March but up from $89/t a year earlier. It assessed lower grade 5,500 kcal/kg coal at $197.43/t fob Newcastle for NAR 5,500 kcal/kg on 6 May, down from a peak of $287.15/t on 11 March but up from $56/t a year earlier.
The heat-adjusted premium on a NAR 6,000 basis for higher grade thermal was at $156.43/t on 6 May, up from $36.17/t on 28 October and from as low as $1.65/t in 2019 before Beijing's ban on Australian coal took full effect.
Shipments of semi-soft coking coal accounted for around 10pc of Newcastle's shipments. Argus last assessed the semi-soft mid-volatile coking coal price at $396/t fob Australia on 6 May, up from $270/t on 31 January and $126.90/t on 19 July 2021.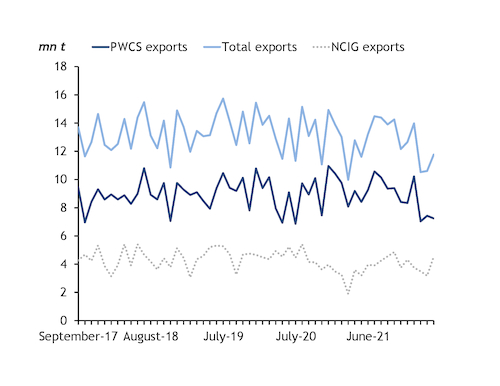 Newcastle coal exports (mn t)