EIA Lowers 2022 US Coal Export Projection Amid War Uncertainty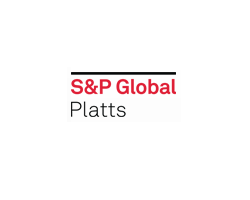 By Morgan Snook
June 8, 2022 - As the Russia-Ukraine war fuels energy market volatility, the US Energy Information Administration lowered June 7 its 2022 US coal export projection to 81 million st, down 5% from the previous projection and 4.8% below 2021.
"Factors driving energy supply uncertainty include how sanctions affect Russia's oil production, the production decisions of OPEC+, and the rate at which US oil and natural gas producers increase drilling," EIA said in its June Short Term Energy Outlook.
Coal exports are expected to climb 1.8% from 2022 to 82.6 million st in 2023, the EIA said. Coal generation is projected to fall to 21.2% in 2022 from 22.5% in 2021, before declining to 19.8% in 2023, a record low.
"The coal fleet has been facing constraints in raising its share of generation despite high natural gas prices," EIA said. "The constraints include limited rail capacity for fuel delivery, low coal stocks at power plants, reduced coal mining capacity, and rising generation from renewable sources."
Renewable energy is projected to generate 22% of US power in 2022 and 24% in 2023, compared with 20% in 2021.
Meanwhile, power sector coal consumption is projected at 483.7 million st in 2022, down 3.5% from 2021. EIA estimated that, in 2023, coal consumption for electricity will decline 6.3% on the year to 453.4 million st. Total coal consumption is estimated at 528.1 million st in 2022, down 3.3% from 2021 levels. Coal consumption in 2023 is estimated at 496.9 million st, down 5.9% on the year.
Despite falling coal exports and stack share, coal production is expected to rise 3.9% on year 600.8 million st in 2022 as utilities seek to rebuild low coal stocks.
"We expect rising coal production will replenish electric power sector inventories and contribute to US coal exports," EIA said.
The 2023 coal production volume is estimated at 588 million st, down 2.1% from the 2022 projection. Nominal average delivered coal prices to power plants are projected at a six-year high of $2.08/st in 2022. In 2023, average delivered utility coal prices are estimated at $2.05/st.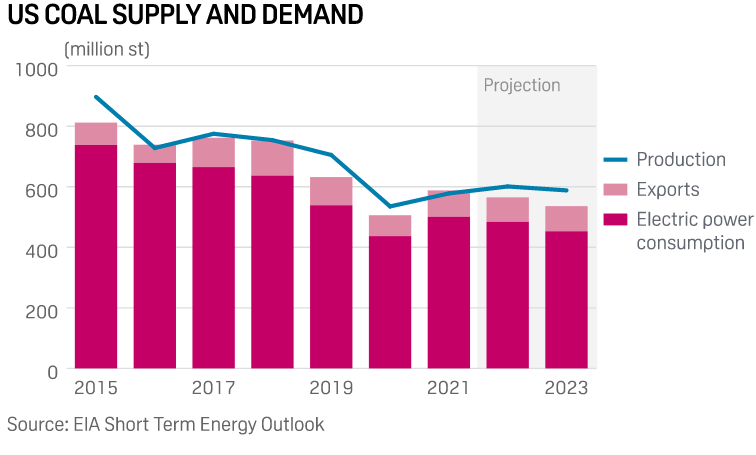 EIA projects that natural gas generation will dip 0.1% from 37.2% in 2021 to 37.1% in 2022 before falling to a record low 21.2% generation share in 2023. Gas power sector consumption is expected to tick 3.3% higher on year to 31.7 Bcf/d before falling 1.8% to 31.9 Bcf/d in 2023. As Europe seeks to fill energy supply gaps in part because of sanctions against Russia, LNG exports are projected to rise 22.3% on year to 11.9 Bcf/d in 2022. In 2023, LNG exports are expected to rise another 5.8% to 12.6 Bcf/d.
"Europe has become the main destination for US LNG exports and accounted for 74% of total US LNG exports during the first four months of 2022," EIA said.
The Henry Hub spot natural gas price is estimated to soar to an average $7.69/MMBtu in 2022, a record high. Henry Hub spot gas prices are projected to fall in 2023 to $4.92/MMBtu.
"Natural gas prices are rising mainly because of three factors: natural gas inventories that are below the five-year average, steady demand for US liquefied natural gas exports, and high demand for natural gas from the electric power sector given limited opportunities for natural gas-to-coal switching," EIA said.