BHP Rethinks Australia Coal Plans on Strong Prices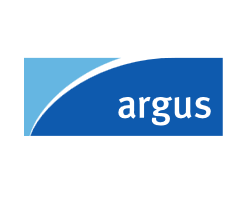 By Jo Clarke
June 16, 2022 - Australian resources firm BHP will close its 20mn t/yr Mount Arthur coal mine in New South Wales in 2030 instead of selling its New South Wales Energy Coal (NSWEC) business, to capitalise on strong coal prices.
BHP will seek consent to continue mining at Mount Arthur beyond the current 2026 cut-off and will cease mining by the end of June 2030, rather than sell the Australian coal division.
In August 2020, BHP gave itself two years to divest its NSWEC, Cerrejon thermal coal mine stake in Columbia and its 80pc stake in the BHP Mitsui Coal (BMC) low-grade Australian coking coal joint venture. It has sold its stake in Cerrejon to joint venture partner Glencore, and its BMC stake to Australian mining firm Stanmore, but it has struggled to get the right price for NSWEC.
BHP reported a turnaround in profit for the division based on record-breaking prices during July-December 2021. NSWEC made earnings before tax and interest of $404mn in July-December compared with a loss of $208mn in the same period of 2020. This is likely to be eclipsed by second-half earnings, with prices for the high-grade coal produced by BHP hitting new records throughout the period.
NSWEC produced 9.8mn t of thermal coal in July 2021 to March 2022. This leaves it with a target of 3.2mn-5.2mn t for April-June to meet its guidance of 13mn-15mn t for the year to 30 June.
Despite the strong prices, BHP has not reversed any of the $1.7bn that it wrote down from NSWEC's value in August 2021. This impairment took the value of the NSWEC business negative to around the cost of rehabilitating the mine site, with the firm setting aside $700mn to rehabilitate the mine site, allowing it to improve its environmental credentials.
BHP has focused on increasing the quality of its thermal coal sales to take advantage of high premiums for lower ash content. This has cut production and pushed up costs, but has still been offset by higher price realisation.
Argus last assessed high-grade 6,000 kcal/kg NAR thermal coal at $390.58/t fob Newcastle on 10 June, down from a peak of $425.31/t on 20 May, but up from $123/t a year earlier. It assessed lower-grade 5,500 kcal/kg NAR coal at $185.63/t fob Newcastle on 10 June, down from a peak of $287.15/t on 11 March but up from $72/t a year earlier.
The heat-adjusted premium on higher-grade 6,000 kcal/kg NAR coal was at $188.07/t on 10 June, down from $222.96/t on 20 May, but higher than the $36.17/t on 28 October 2021, and from as low as $1.65/t in 2019, before China's ban on Australian coal took full effect.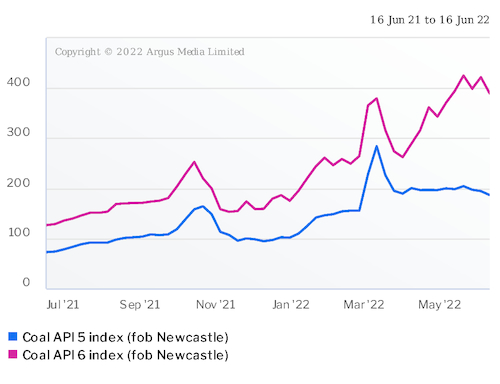 Australian thermal coal prices $/t