Firmer Prices Lift Australian Coking Coal Capacity
By Jo Clarke

June 20, 2022 - Around 8.4mn t/yr of new Australian coking coal production capacity has been bought on line this year, with a similar amount planned for the rest of 2022 and up to 14mn t/yr scheduled for 2023.
Firm, if volatile, metallurgical coal prices since late 2021 are starting to be reflected in mine restarts, new projects and expansions coming on line, bolstering supplies despite delays caused by extremely wet weather and safety concerns. The ramp-up of new projects, together with the approaching end of the 2021-22 fiscal year on 30 June, has seen vessel queues grow outside the key Queensland coking coal ports of Dalrymple Bay Coal Terminal, Hay Point and Gladstone.
Australian developer Bowen Coking Coal (BCC) began railing coal from its 1.2mn t/yr Bluff pulverised coal injection (PCI) grade mine to Gladstone this month. BCC uses Australian firm QCoal's washing and rail loading facilities at the 1.2mn t/yr Cook Colliery, which also restarted in April having closed in late 2019 when then owner Bounty Mining went into administration.
Cook, which produces thermal and coking coal, had been scheduled to restart in late 2021 but was delayed by bad weather and by safety concerns at its contractor Mastermyne following a rock fall at the 1mn t/yr Gregory-Crinum coking and thermal coal mine. Gregory-Crinum, which is owned by Japanese firm Sojitz, is due to reopen this quarter and rise to full capacity during July-September.
Bluff is the first stage in BCC's plans to mine 5mn t/yr of coal in Queensland by 2024, which includes its Burton and Lenton coking coal projects that it is in the process of acquiring from Australian coal mine New Hope. The firm in May began mobilising a contract mining crew at the 1.2mn t/yr Broadmeadow East where it aims to mine 600,000t of run-of-mine coal in 2022, with first coal delivered to the Carborough Downs processing plant in July.
Australian firm Fitzroy owns the Carborough Downs mine and plant, which it also uses to process coal from its 1mn t/yr Broadlea swing coking coal mine that it restarted in November because of higher prices. Fitzroy, which is backed by US investment firms AMCI and Riverstone, is also building the 2.7mn t/yr Ironbark No.1 project that will also use the Carborough Downs plant.
AMCI increased its exposure to Australian coking coal this year by acquiring the Baralaba PCI coal mine and 5mn t/yr Baralaba South project from US firm Liberty Mutual. It has not indicated what it plans to do with Baralaba South, after Liberty let the deadline lapse to apply for environmental approval for the project last year.
Growth Potential
UK-South African mining firm Anglo American has some of the biggest potential to expand Australian metallurgical coal production through the expansion of its 5mn t/yr Grosvenor and 6.5mn t/yr Moranbah mines. Associated growth projects have been put on hold after a series of safety issues at the mines, but both mines are slowly raising output, potentially allowing the firm to look at growth again.
Premium hard coking coal peaked above $660/t fob Australia in mid-March, as the Russia-Ukraine conflict increased demand for non-Russian metallurgical coal before easing over the past three months, albeit still being significantly above long-term averages. Argus last assessed the premium hard low-volatile coking coal price at $379.20/t fob Australia on 17 June, down from the peak of $664/t on 15 March but up from $177/t a year earlier.
Argus last assessed the PCI price at $360.65/t fob Australia on 17 June, up from $136.65/t on a year earlier and from around $70/t when Bluff was closed in November 2020.
Firm
Size (mn t/yr)
Status
Start date
Isaac Plains Complex (Isaac Downs)
Stanmore Coal
1.0
transition from old mine complete
Jan-Mar '22
Aquila open cut and underground
Anglo-American and Mitsui
5.0
undergound mine started in February
Feb '22
Cook Colliery
Qcoal
1.2
restarted April
Apr '22
Bluff
Bowen Coking Coal
1.2
first coal railed June
Jun '22
Gregory Crinum
Sojitz
1.0
restart delayed by roof fall
by end-June '22
Broadmeadow East
Bowen Coking Coal
1.2
mining contractor appointed
Jul '22
Tahmoor South
Simec Group
3.5
Approved in October
2022
Ironbark No.1
Fitzroy Australia Resources
2.7
under construction
2022
Olive Downs
Pembroke Resources
15.0
ground broken on project in April
2023
Burton and Lenton
Bowen Coking Coal
2.0
seeking finance for acquisiton from New Hope
2023
Baralaba South
Mount Ramsey
5.0
AMCI acquired project from Liberty Mutual this year
2023
Wilton-Fairhill
Futura Resources/Sojitz
3.0
to be developed to compliment Gregory Crinum
2023
Dendrobium Extension
South32
5.2
NSW government backed revised mine extension
2026
Grosvenor phase 2
Anglo American
6.0
Anglo waiting for Grosvenor ramp-up
2026+
Moranbah South
Anglo American and Exxaro Resources
18.0
Anglo waiting for Grosvenor ramp-up
2026+
Eagle Downs
Aquila Resources, South32
4.5
South32 selling, Baosteel no comment
Unknown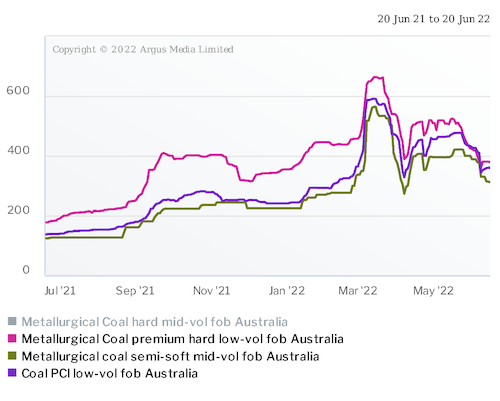 Australian metallurgical coal prices
($/t)