Debbie Maynard Honored at Bluefield Coal Show
By Charles Boothe
September 16, 2022 - One of the anchors of the Bluefield Coal and Mining Show was honored Wednesday for her long service and dedication.
Debbie Maynard, with the Chamber of Commerce of the Two Virginias, was presented the Charles A. Peters Award for her lifetime of "dutiful and dedicated service to the betterment of the Bluefield Coal & Mining Show."
Peters, the late owner of Peters Equipment, founded the show ion 1976 and Maynard worked with him on the shows, held every two years, from the very beginning.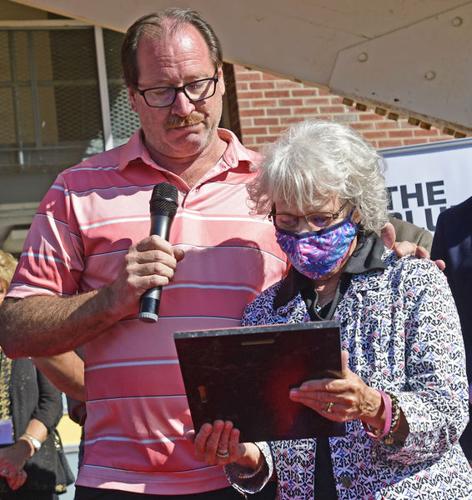 Kyle Hurt, who is a Coal Show committee member, reads the Charlie A. Peters Award to Chamber employee and long-time force behind every coal show Debbie Maynard before the ribbon cutting to open this year's Bluefield Coal & Mining Show at the Brushfork Armory.

Photo: Jessica Nuzzo/Bluefield Daily Telegraph
This week's show is the 24th, and Maynard has been there every step of the way.
"Debbie has been with every show and worked with Mr. Peters through all of those years and helped develop all of this as you see here today," said Robert W. "Bob" Ramsey, coal show General Chair and owner of Peters Equipment and Ramsey Industrials. "We all are sort of commanded by Debbie. She handles every detail and we could not be more impressed with her life's work."
"I usually have something to say all the time," Maynard said. "But I am just speechless. Yes, I have worked with Mr. Peters since 1976 and even when we do things today, as Bob Ramsey would tell you, it is, Mr. Peters would do it this way or would do it another way. So I a humbled..."
Maynard said she has had a difficult time in her personal life recently with the loss of her husband and brother.
"It's been a struggle..." she said. "I just want to thank all of you so much and I just don't know what to say."
The award was presented during the ribbon-cutting to open this year's show Wednesday morning.
Guest speaker Phil Hamilton, president of the West Virginia Coal Association, also praised Maynard for her work and dedication.
"Thank you so much for your dedication, not just to this show and the success of this show but also to the success of coal mining throughout the state," he told her. "You have made major contributions there."
Jeff Disibbio, president and CEO of the chamber, which sponsors the coal show, said Maynard has worked with the show for 48 years.
"She is the force behind the show," he said. "Big things come in small packages. She is a little stick of dynamite that makes this show happen."
Disibbio said Maynard has endured many personal hardships but never wavered in her dedication to the coal show.