NMA Launches New Visual Brand Identity Focused on the Future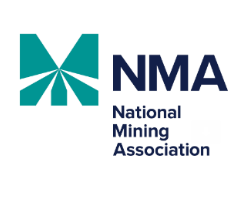 October 3, 2022 - The National Mining Association (NMA) today launched a new visual brand identity reflective of the innovative and forward-looking role the U.S. mining industry plays in the modern economy.
"The mining industry is essential to the U.S. economy and is at the tip of nearly every supply chain from energy to national security, technology to infrastructure," said Rich Nolan, president and CEO of the NMA. "As the only national trade association serving as the voice of the U.S. mining industry, we are committed to reflecting the innovative and technology-driven approach of our members and underscoring our commitment to supplying the materials our economy needs."
The NMA's updated visual brand identity includes a new logo, typography and primary/secondary colors. The 'M' shape of the logo evokes a mountain, represents the entirety of the industry and is stylized to lead viewers to see below the surface, an analogy to the work our industry does. The 'M' also delivers new dimensions, focusing on a forward-driving center point that showcases our commitment to the future and the essential role industry plays in technology and innovation.
About NMA
America's mining industry supplies the essential materials necessary for nearly every sector of our economy – from technology and healthcare to energy, transportation, infrastructure and national security.
The National Mining Association (NMA) is the only national trade organization that serves as the voice of the U.S. mining industry and the hundreds of thousands of American workers it employs before Congress, the federal agencies, the judiciary and the media, advocating for public policies that will help America fully and responsibly utilize its vast natural resources. We work to ensure America has secure and reliable supply chains, abundant and affordable energy, and the American-sourced materials necessary for U.S. manufacturing and economic security, all delivered under world-leading environmental, safety and labor standards.

Headquartered in Washington, D.C., the NMA has a membership of more than 250 companies and organizations involved in every aspect of mining, from producers and equipment makers to service providers.