Leaders in Mine Safety and Technology Honored by NMA, NIOSH and OSMRE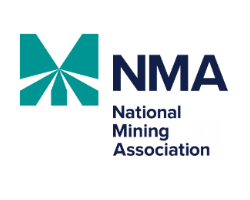 November 10, 2022 - In a ceremony in Washington, D.C., the National Mining Association (NMA), the U.S. National Institute of Occupational Safety and Health (NIOSH) and the U.S. Office of Surface Mining Reclamation and Enforcement (OSMRE) today honored outstanding achievements in mine safety and technology.
Safety
The NMA's Sentinels of Safety Award recognizes coal and mineral mining operations in 10 categories for recording the most hours in a calendar year without a single lost-time injury. A minimum of 4,000 hours is required for award consideration. The award categories reflect the safety accomplishments of both small and large mines.
Twenty American mining operations – six coal mines and 14 mineral/metal mines – will be honored with the award recognizing performance in 2021.
"The extraordinary safety accomplishments of these companies serve as a model for all of industry, which is united behind a rigorous dedication to a culture of continuous improvement," said Rich Nolan, NMA president and CEO. "Every mine in this country understands that the complex work we do requires constant vigilance and, through steadfast leadership, strong systems and an ingrained culture of safety, today's honorees have achieved the ultimate goal: providing a safe environment for their employees."
Initiated in 1925 by then Commerce Secretary Herbert Hoover, a former mining engineer, the Sentinels of Safety Award program remains the nation's most prestigious recognition of mine safety and has helped foster a strong safety commitment on the part of U.S. mines.
Note: all recipients marked with an asterisk* are members of the NMA.
Recipients for 2021 include the following:
Large Group Category
Large Coal Processing, Elk Creek Processing, Ramaco Resources* Lexington, Ky.
Large Open Pit, Phoenix Mine, Nevada Gold Mines* Elko, Nev.
Large Surface Coal, Navajo Mine, Navajo Transitional Energy Company* Broomfield, Colo.
Large Underground Coal, Foidel Creek Mine (aka Twentymile Mine), Peabody* Saint Louis, Mo.
Large Bank or Pit, All American Aggregates, All American Asphalt Corona, Calif.
Large Dredge, GEN 6 Proppants LLC Mansfield, La.
Large Metal/Nonmetal Mill, Northshore Mining, Cleveland-Cliffs Silver Bay, Minn.
Large Quarry, Pennsuco Quarry, Titan America Medley, Fla.
Large Underground Metal, Lee Smith Mine, Small Mine Development, LLC Boise, Idaho
Large Underground Nonmetal, Intrepid Potash East, Intrepid Potash-New Mexico Carlsbad, N.M.
Small Group Category
Small Underground Metal, Fire Creek, Hecla Mining Company* Winnemucca, Nevada
Small Coal Processing, Shoal Creek Mine, Peabody* Saint Louis, Mo.
Small Bank or Pit, Minnesota Portable #1, Martin Marietta Maple Grove, Minn.
Small Dredge, Raccoon River Sand & Gravel, Martin Marietta Des Moines, Iowa
Small Metal/Nonmetal Mill, Laurel Quarry, Lehigh Hanson Somerset, Ky.
Small Open Pit, Minnesota Reclamation Crew, Martin Marietta Maple Grove, Minn.
Small Quarry, Portable Crusher, ROBCO Inc. Grants Pass, Ore.
Small Surface Coal, Humphrey No. 7 Mine, LP Mineral LLC Morgantown, W.Va.
Small Underground Coal, Straight Creek Mine, Covol Fuels No.3 LLC Pineville, Ky.
Small Underground Nonmetal, Pride of America Mine, Colorado Stone Quarries Marble, Colo.
Technology
In addition, NIOSH will also recognize winners with its annual Mine Safety and Health Technology Innovation Awards. Honorees are selected due to the significant advancements they have made to enhance mine safety by applying technology or improved processes in innovative ways.
The following companies will be recognized for 2021:
CONSOL Energy Inc. and Simmons Equipment Company
Emesent Pty. Ltd
Reclamation
OSMRE will also recognize winners with its annual Excellence in Surface Mining Reclamation Awards, which are the highest honor given to coal mining companies with exemplary coal mine reclamation in the United States. OSMRE will honor one recipient for its National Award and one for the Good Neighbor Award.
National Award: Navajo Transitional Energy Company LLC, Chinde Wash Wetland and Riparian Mitigation
Good Neighbor Award: Raven Crest Contracting LLC, Boone North No. 2 Surface Mine (Permit S-5008-03)