Natural Gas Fueling West Virginia's Revenue Boom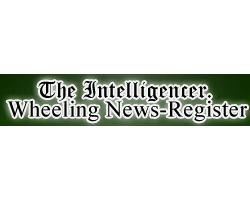 By Steven Allen Adams
November 15, 2022 - West Virginia is once again bringing in record-breaking tax revenue surpluses, with natural gas severance driving more than 20% of those surpluses according to one of the state's top economists.

Members of the Joint Committee on Natural Gas Development received a briefing from John Deskins, director of the Bureau of Business & Economic Research at West Virginia University. The committee met at Cacapon Resort State Park in Berkeley Springs on the second day of legislative interim meetings.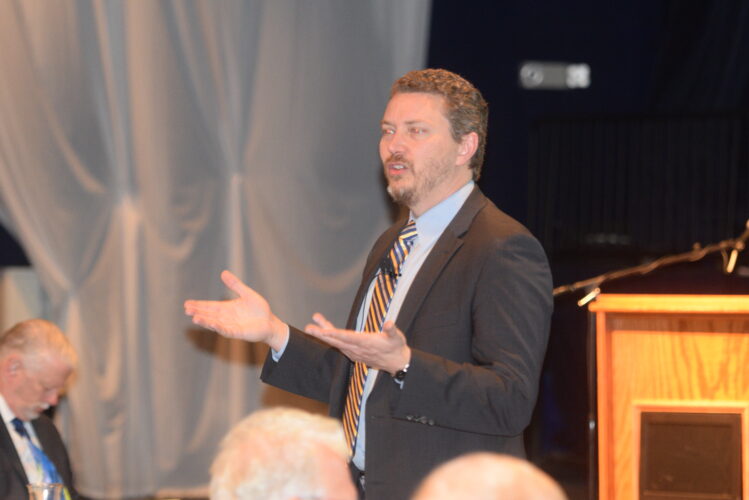 John Deskins, assistant dean of West Virginia University's College of Business and Economics, discusses the economic outlook for West Virginia and the Northern Panhandle on Oct. 19 as part of the Wheeling Area Chamber of Commerce's Economic Outlook Conference.

Photo by Derek Redd
Deskins gave a presentation titled "Update on the Natural Gas Markets and its Effects on Severance Taxation." According to Deskin's research, natural gas severance tax revenue between the start of the 2023 fiscal year in July and October accounted for approximately 20% of the $575 million in total general revenue fund surplus tax revenue during the same time period.
Natural gas severance tax collections during the first four months of the current fiscal year of $205 million exceeded the $92 million estimate by the state Department of Revenue. The actual taxable natural gas price of $5 per million Btu was greater than the expected taxable natural gas price of $2.25 per million Btu.
"That's how much we think is directly attributable to that price jump that we've observed this year," Deskins said. "We're talking about a more than doubling of the relevant price to consider the budget surplus."

Year-to-date severance tax collections for natural gas, oil, and coal of $341.2 million were 474.5% more than the $59.4 million estimate for a year-to-date surplus of $281.8 million – making up nearly 50% of the total year-to-date surplus. October severance tax collections of $69.1 million were 475.7% more than the $12 million revenue estimate for a $57.1 million surplus for the month.
West Virginia ended the first four months of the current fiscal year with more than $2 billion in tax collections for the general revenue fund. That's 39.8% more than the $1.4 billion estimate set by the state Department of Revenue, leaving the state with $574.8 million in surplus tax revenue.
Deskins said higher taxable natural gas prices also drive revenues for other state taxes, such as the corporate net income tax collections, personal income tax collections due to royalty payments, and higher natural gas prices naturally boost coal prices, creating the boost in severance tax collections.
"This year, the higher gas prices have also boosted coal prices as there's some substitutability between gas and coal," Deskins said. "So, the higher coal prices also affect severance tax revenue through that secondary channel. All three of those things (corporate net income, personal income, and coal severance) are additional ways in which these higher prices affect severance tax collections that we have not accounted for."
But Deskins sounds a note of caution that higher natural gas prices would not last forever. He said to expect prices to come down for where they are right now as the year continues.
"We expect gas prices to fall over the course of the next year," Deskins said. "We expect gas prices will still be very high compared to what we've seen over the last decade a year from now. But we don't expect them to be quite as high as they are right now."