Emily Sarver Named Stonie Barker Professor of Mining and Minerals Engineering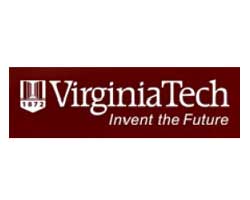 November 20, 2022 - Emily Sarver, associate professor and graduate program director for the Department of Mining and Minerals Engineering in the College of Engineering at Virginia Tech, has been named the Stonie Barker Professor of Mining and Minerals Engineering by the Virginia Tech Board of Visitors.
The Stonie Barker Professorship in mining and minerals engineering was established in 1987 with gifts to the department in honor of Stonie Barker Jr., a 1951 mining engineering graduate. The professorship acknowledges faculty in the Department of Mining and Minerals Engineering who have shown exceptional merit in research, teaching, and/or service. Recipients hold the position for a five-year term.
A member of the Virginia Tech faculty since 2011, Sarver has been the principal investigator on more than 15 projects with a personal share of nearly $5 million in funding from federal agencies, industry, and private sources. She is internationally recognized as an expert in respirable mine dust and recently served on a consensus committee convened by the National Academies of Sciences, Engineering and Medicine to study coal mine dust.
Her research team has focused on improving the health of mine workers through characterization, monitoring, and abatement of respirable dust and diesel particulates. This work has been supported by two grants in excess of $1 million from the National Institute for Occupational Safety and Health and has resulted in more than 50 peer-reviewed journal publications and more than 100 conference presentations.
In addition, Sarver is highly regarded as an effective teacher. She has mentored more than 20 graduate students in three departments to successful completion of their degrees, and all of them have authored peer-reviewed papers. She also has guided more than 20 undergraduates in research projects and supported a number of postdoctoral and research associates.
In recognition of her teaching and research effectiveness, Sarver has been the recipient of numerous awards including the Research and Educational Excellence Award by the Health and Safety Division of the Society for Mining, Metallurgy, and Exploration in 2017. A graduate course she leads and co-offered with four other institutions was recognized in 2021 by the United Nations-affiliated Sustainable Development Solutions Network. And she leads sophomore mining students on field trips to expose them to underground mining operations.
Sarver received her bachelor's degree, master's degree, and Ph.D. from Virginia Tech.