A Real Boost to Our Economy: King Coal's Roller Coaster Economy Climbing Again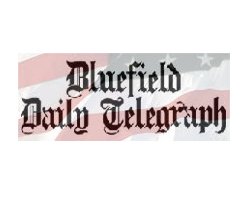 By Mary Catherine Brooks
March 7, 2023 - For decades, Wyoming County has been riding King Coal's roller coaster economy. The county now seems to have turned a corner, or maybe turned back the clock, when it comes to coal.
New technologies are bringing long-abandoned coal waste onto the center stage in an exploding global market, turning the industry's downward spiral of the past several years into an economic climb.
For generations, waste from long-ago coal operations has been sitting in sludge ponds, gob piles, and impoundments across Wyoming County and the coalfields of southern West Virginia.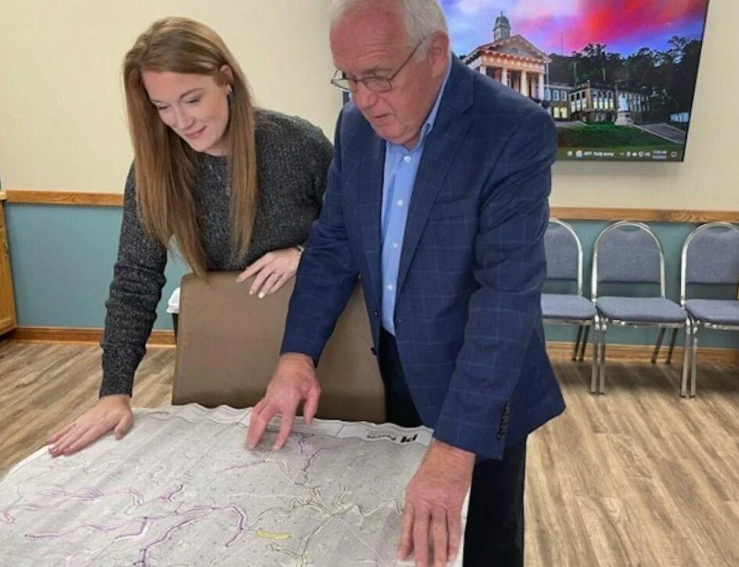 Christy Laxton, Wyoming County Economic Development Authority executive director, and Mike Goode, EDA chairman, are pictured.
File photo by CNHI News W.Va.
With the new technologies, those waste products can now be extracted and processed into products that are in great demand across the globe.
Two companies poised to use new technologies are moving into the county: AmeriCarbon Products and Omnis Sublimation Recovery Technologies, both headquartered in Morgantown and both committed to constructing processing plants in Wyoming County.
AmeriCarbon Products is building the United States' first coal-to-carbon processing plant in Wyoming County's new $7 million Barkers Creek Industrial Park, located near Mullens.
In three to five years, converting coal into carbon products is projected to jump from the current $10-billion-a-year industry to a $100-billion-a-year industry – and Wyoming County is expected to play a significant role in the market, according to company officials.
Omnis will extract rare earth metals from coal waste, then sell them for components in cell phones, computers and other electronic devices.
Omnis' technology can extract pure metals from coal impoundment mineral waste using ultra-high heat without acids or harmful chemicals.
The technology recovers 100 percent of the metals, including all critical, strategic, and rare earth metals, with zero waste and no harmful emissions, according to officials.
Coal waste impoundments and gob piles are rich in critical metals, including strategic metals and rare earth metals. Millions of tons of these metals are concentrated from the natural coal seam sources. The coal mining process has concentrated these minerals, and they are available in the multitude of waste impoundments.
The two companies are providing real opportunities for the county's young people, emphasized Mike Goode, Wyoming County Economic Development Authority chairman.
"This will be a real boost to our economy just with the jobs," he said.
The EDA worked with AmeriCarbon officials for about a year and a half before the announcement was made the company would construct a plant in Wyoming County, Goode noted.
In addition to the new tech companies, there are new mining operations opening in Itmann, Kopperston, Wyco, and Stephenson, Goode said.
"Wyoming County and the southern coalfields have turned upward into what will almost surely be a strong, growing, wealth-generating economic boom," Sen. David "Bugs" Stover, R-Wyoming, said.
"Traditional coal mining will be a major player in this boom.
"The new coal-related technologies will be an even bigger player and, along with a rapidly growing tourist industry, will lead us into the proverbial 'promised land'," Stover emphasized.
The two new industries will require different technologies, explained Christy Laxton, Wyoming County Economic Development executive director.
"These industries are making history in the technology that they are providing and the processes that they will be conducting," she said.
"These types of things don't happen overnight. It will take time to cross all the t's and dot all the i's," Goode said. "This is a new era for the coal industry and for Wyoming County."
"I think we're catching the beginning of a new era," noted Jason Mullins, county commission president.
"My generation and our children had to move away to find jobs. That is changing. We're sitting on the cutting edge that can provide great-paying jobs with good benefits and give our young people careers, not just jobs, but careers, right here," Mullins said.
"In the long run, we're going to see new roads and water and sewer projects go into places you would never have believed you would see it," Mullins said.
"I think that the county is in a great place right now to be able to move on economic development opportunities that we haven't had in the past – like these two new industries," Laxton said.
"Several factors play into this with availability of land at the Barkers Creek Industrial Park, the Coalfields Expressway allowing easier access to Wyoming County, and the new technology and processes for coal and coal waste.
"These allow for economic opportunities in processing as well as then manufacturing the products that can be made from what has been processed.
"Wyoming County has the potential to have the workforce needed for these new industries. These new industries will be good-paying jobs and will be an attraction for our young people to stay here in West Virginia," Laxton said.
"Coal mining has been the bedrock of West Virginia's economy for 100 years but has endured extremely hard times for decades," Stover noted.
"Coal has always been cyclical, going up and down since the beginning. Perhaps an up-cycle has started, but the downward trend will not devastate the industry.
"Long-term trends in the world economy will require coal to be mined. Both steam coal and met coal will continue to be mined, but met coal will be in growing demand for decades. We have a lot of met coal, for making steel, and new mines are opening.
"Upwards of 20 mines are adding employment or starting up.
"Coal trucks and coal train cars will be hauling out of Wyoming County and all of southern West Virginia, adding additional jobs," Stover emphasized.
"Coal connections with the two new industries will be coming to the coalfields, which could become game changers," he said.
"AmeriCarbon will not be using coal for its hydrogen content, but for its carbon. They will hire between 50 and 100 folks at the start to use mined coal and also coal from slate dumps, etc., to make high-impact plastics used in helmets and in impact-resistant parts of cars, etc.
"AmeriCarbon could be huge," Stover emphasized.
"The other new and cutting-edge company, Omnis, will 'mine' rare earth elements or metals, which have tremendous value and are indeed extremely rare.
"These metals are essential to making windmills, computers, cell phones, and just about every high-tech device one can think of.
"Think of all the recent supply chain disruptions in things like buying a new car. These rare elements exist in abundance in every slate pile, slush pond, or any other place we've been dumping coal waste for 100 years.
"Perhaps what we have thrown away has more value than what we sold," Stover noted.
"Omnis' environmentally-friendly process could be as big as big gets – worth trillions," he explained.
"We're already seeing the growth in tourism, and it will continue to expand.
"The arrival of the Coalfields Expressway has contributed to a big expansion in our economy around Mullens," Stover said. "As the Coalfields Expressway makes it to Pineville, then Welch, and then to the interstates in Virginia, it will create another massive and positive impact as a million folks a year will be traveling right through Wyoming County. We will need to convince them to stop and spend money."