Museum of Mining Recognizes Volunteers at Annual Dinner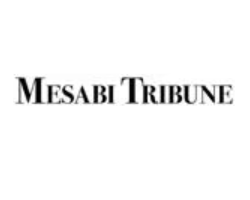 March 10, 2023 - The Minnesota Museum of Mining held its 69th dinner meeting on Feb. 23, at Valentini's Supper Club in Chisholm.
The annual event was attended by 33 members and guests, according to Museum Board Director Carol Borich.
Local historian Mary Palcich Keyes gave the keynote address entitled, "The schools that Did it All." In her presentation Keyes talked about the citizenship classes taught to adults by teachers of immigrant children.
Tribe Capital Co-Founder Arjun Sethi joins Caroline Hyde and Ed Ludlow to discuss the fallout from the collapse of Silicon Valley Bank and why, like other Venture firms, Tribe Capital advised its portfolio companies to move some, if not all, of their balances from SVB.
The museum contains an exhibit on Iron Range Schools within its Iron Range Life 1920s to 1950s, with many photos, quotations, books, schoolroom furniture—even a horse-drawn school sleigh.
The museum members ratified two new board members, Susan Wiirre and Erinn Astry. The board now has 12 members, with the reelection of Borich, Beverly Brown, Helen Thran and Tim Sullivan. Chuck Palmquist was reelected as president and Astry elected as secretary for the 2023-2024 term. Other officers are Borich, treasurer and Mary Bovitz, vice president.
The Annual Activity Report highlighted projects completed over the 2022 season: the 120-ton Wabco Haul Truck, new roof over the 2-ton White Haul Truck, repair of the 1906 DM&IR caboose roof and cupola, and upgrade of the Underground Mine Drift floor. Many improvements were made to electrical wiring and lighting; Minnesota Power was of valuable assistance in that process. Visitor numbers were up 30% over the previous year and 60% above the five-year average.
A financial report shared at the annual dinner showed that the Museum ended the year with a net gain of $1,681 over expenses of $80,300, Borich noted.
The museum recognized the valuable contributions of its volunteers, including board members, who keep it on solid financial footing, and the generous support of the membership.
Seventy-six individuals donated a total of 2,447 hours of their labor—a 30% increase over the previous year. Susan Frankovich was recognized as 2022's outstanding member volunteer.
Museum members and the community was generous with their support. In 2022 US Steel provided funds for a replacement all-steel viewing stand to allow close-up viewing of the big Wabco haul truck. Individual contributed over $7000 so the Museum could provide programming and complete restorations.
The Museum of Mining 2023 season opening is set for Friday, May 26 through mid-September.